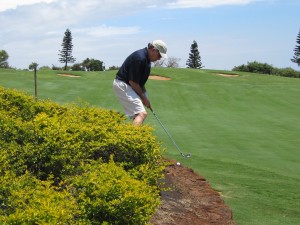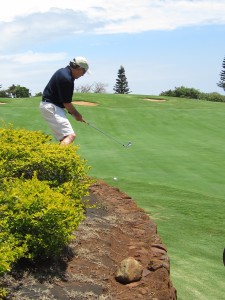 Only time for a quick post this evening, but since I know all the fellow Golf Road Warriors will be wanting to put this one up, I thought I'd try to sneak it in. This is an actual golf shot played by Brian McCallen, after his drive on the twelfth hole of the King Kamehameha Golf Club in Wailuku, Maui this morning.
Displaying the sternest play-it-as-it-lies approach, Brian scrambled onto the lava rock wall and had at it. If the result was not particularly stunning, full plaudits for the mere attempt.
I quickly suggested a title of "Brian on the Rocks" but fellow Road Warrior Jim Frank, displaying his own wise editorial judgment, aptly altered it to "McCallen on the Rocks." So all credit to Jim, too. Mostly we were all standing around laughing. More on the course and the club to come, but for now, this one's in the books.
Previous: TAP Beer of the Day: Maui Brewing's Big Swell IPA
Next: It's Good to Be the King