In the usual spirit of toughing it out no matter how rigorous the circumstances, the Golf Road Warriors have pitched our tents at the Fairmont Kea Lani for three nights. This 22-acre bivouac within the staggering 1,500-acres that encompasses the entire Wailea Resort is one of six world-class hotels on site.
I think we'll hold up quite well.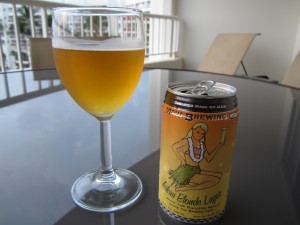 Granted, tonight I'm half dead from a twenty-hour travel day and three different flights to get to Maui, but here I am, and when I wandered into my deluxe room here at the Fairmont, what was waiting for me but an ice bucket with some Maui Brewing Company cans in it. Off to a good start! I had a Bikini Blond Lager out of the bucket, into a glass, and out on my balcony faster than you can unbuckle an airplane seatbelt.
Remember last December? Not only did we survive Mayan Doomsday, heading over the Fiscal Cliff, and the NHL lockout, but another PGA Tour season was set to debut, in Maui as usual. Life was good, especially for the winners teeing it up at the Hyundai Classic over at the Plantation Course at Kapalua.
Visitors lucky enough to be on the island had a chance to head over to the Maui Brewing Company brewpub in Kahana to tee up a taste of the limited release Aloha B'ak'tun, which more or less translates as "hello and goodbye" and was actually brewed December 21, the day the end of the world was supposed to be upon us. (The participants who failed to gain a card at Q-School know better.)
The MBC's brewing optimism led to a 7% ABV Belgian-style Stout concocted with chocolate, cinnamon and locally-grown chipotle peppers. A limited amount found its way to cans, the brewery's preferred method of packaging.
That's good news for the rest of us, since the year-round products actually find their way into local golf course beverage carts and are shipped to nine western states as well as Virginia and Maryland.
I didn't get a chance to try the Aloha B'ak'tun, but we're visiting the brewery on Thursday night, so we'll see what turns up. Meanwhile, there are other MBC beers to try, and we might as well start, as with most beer tastings, at the lighter end of the spectrum.
Besides, Maui's Bikini Blonde Lager is stocked on the beverage carts at the Wailea Golf Club, where we'll be teeing it up tomorrow.
This Helles style lager is suitably light (which is what Helles means in German), a pretty blonde in the glass, with a candy-like sweetness in the nose and a surprising hint of apricot, which I can only guess come from the use of Liberty, Sterling and Hersbruker hops.
The brisk carbonation gives a crisp and tangy feel to the beer, making it a pleasing thirst-quencher and likely a strong contender as a gateway beer to the craft brew uninitiated. It's not all that far removed from typical American lagers downed by the hoi polloi (a Greek term, actually, not Hawaiian).
Yet there's an understated elegance to the beer that raises it far above the ranks of mass market bellywash. Looking forward to tomorrow's round!
Name: Bikini Blonde Lager
Brewer: Maui Brewing Company, Hawaii
Style: Helles Lager
ABV: 5.1%
Availability: Year-round, nine western states and Virginia and Maryland
For More Information: www.mauibrewingco.com
Previous: Avoiding Mirrors in Maui
Next: Heeding Voices at Wailea