The ink was barely dry on the morning's papers last July 22 when a band of U.S. golf writers wandered into a petrol convenience store barely two hours north of Dublin. About the first thing we saw was a rack of a half dozen newspapers all proclaiming the joyful news that Shane Lowry had captured the title of Champion Golfer of the Year at the 148th Open Championship.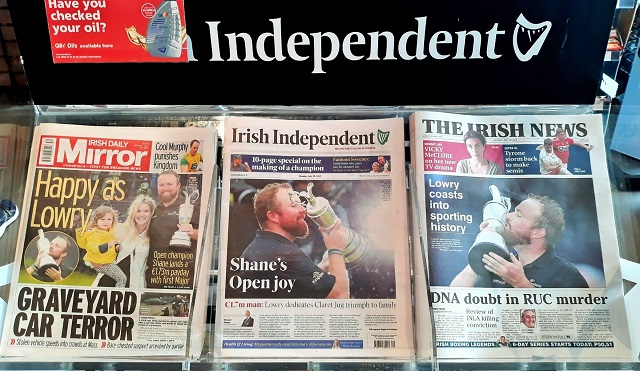 Moreover, the Irishman had pulled off his feat at Royal Portrush, the first time the Open had been held in Ireland since 1951. (Pour yourself another bevy if you know that the winner of that title was Englishman Max Faulkner.) Even early on a Monday morning, Lowry's lifting of the Claret Jug seemed to be doing the same for the country, putting it in an ebullient mood.
No question our group was eager; we weren't heading into Northern Ireland, but we were heading north and west, to what the Irish tourism folks like to refer to as the Wild Atlantic Way. That actually stretches south to West Cork, but we stuck to the north and played links courses over the next few days in County Donegal and County Sligo. And without question, they never put the Atlantic out of sight or mind. Wild it could be, too; the wind rarely let up, and was occasionally moist, though hard rain never washed us down or out.
Some of the crew had come over from the Open; the rest of us had just flown into Dublin and found our first course to be the perfect jet lag round—nine holes at the Cruit Island Golf Club. It was also a perfect example of why it's sometimes smart to put one's travel plans into the hands of a local expert. Simply checking off the names of well-known Irish courses would never have turned up this unheralded gem.
Sure, you may have heard of such northwestern courses as Enniscrone, Donegal Golf Club, Rosapenna, County Sligo or Portsalon. But the Cruit Island Golf Club in Kincasslagh? Even if you have heard of it, you may not have heard it quite correctly. County Donegal touches but a bare border to the rest of the Republic of Ireland. Mostly it cruises north and borders Northern Ireland to the east.
That has led to a local marketing slogan, "Up here it's different," and there's a dialect in the county that can be knotty to untangle. Cruit Island, for one, is actually pronounced "Critch Island." No matter, one's golf swing is the same, unless you've found ways to adapt to the wind.
There's plenty at Cruit, which may be more exposed to the Atlantic Ocean than some of the other tracks we played, although there are also some lovely views of the distant Mt. Errigal. Looking out from a tee across the watery expanses you may hear from one of 160 friendly members the oft-repeated line, "Next stop is America." The course is easily in the running for one of the world's best hidden links, and if you've come from America you shouldn't miss it.
To get in 18 at Cruit Island to a par of 68 you'll have to go around twice. That would be no hardship, except perhaps to your new World Handicap System index, even for a 2,570-meter nine. That the course was member-built in 1986 seems pretty remarkable once you tee it up on the par-3 sixth hole, as visually stunning a seaside hole as can be imagined, a seemingly mild 137-meter poke. Two holes later you could well be playing driver on a 195-meter par-3 eighth.
Lure of the Links
Liam McDevitt, a businessman on the U.S. east coast, is a native of Ireland's west coast, and basically grew up playing at the Narin & Portnoo Golf Club. It was a par-69 then, but over the years ballooned to a par-73. Its debt also swelled to the point that the future of the course was in doubt. In 2017, McDevitt and a partner assumed the debt and ownership of the course.
They had the wisdom, passion and presumably the bankroll to convince the hottest architect on the planet to revitalize the course. Gil Hanse and his partner, Jim Wagner, completed the first phase of a redesign last spring.
I'd not seen the course before, but I'd have to guess that all parties are pleased at the results, since the layout is nothing short of thrilling.
Par is now 70, even if you play hole 14A in place of hole 11. Which is to say, options are available, and some tinkering of holes is still going on, but the pure wide-open airiness of this links course, playing through heaving dunes opening to gorgeous views of Gweebarra Bay is about as rugged and pleasing as links golf can be. A new club house only adds to the ingratiating quality of the play and puts the course on the must-visit list.
[A longer piece about Narin & Portnoo, McDevitt and Hanse-Wagner is here at Morning Read's Where to Golf Next.]
But the list only extended itself as we moved on to the Donegal Golf Club in Murvagh, another course hugging the Atlantic coast if less hilly than Narin & Portnoo. The Club has been around since 1959, but the current course opened in 1976, the layout by Eddie Hackett, perhaps the best-known Irish designer at the time.
A fair amount of remodeling has been done in the years since, by that other irrepressible Irishman, Pat Ruddy. A new clubhouse was erected in 1998. Playing to a par-73 and stretching to 6,819 meters (7,453 yards) from the tips, Donegal is one of the longest courses in Ireland.
When a par-3 hole, the 197-yard fifth, is called the Valley of Tears, it's easy to see that Donegal is a challenge even for the likes of Open Champion and member Darren Clarke, who calls it one of his favorite courses in the world.

I wouldn't argue, though it's tough to focus on trying to hit the smallish greens and avoid the devilish tight pot bunkers in such a splendid landscape of sea and sky on a promontory jutting into the Atlantic Ocean.
[And a longer piece about Donegal, Eddie Hackett and Pat Ruddy is here at Morning Read's Where to Golf Next.]
Though it was a little difficult to believe after what had come before, our final course on Ireland's Wild Atlantic Way may well have been the most dramatic. The County Sligo Golf Club, a bit south of Donegal at Rosses Point (as the course is also known by), is yet another pelagic knockout, while tossing in views of mountains and meadows as more distracting asides.

This is Yeats country, and it's not inapt to call this a poem of a course. Around as a nine-holer since 1894, the current 18 was originally laid out by Harry Colt in 1927. But here, too, Pat Ruddy has been touching up the course for years now. (Another nine, the Jonathan Tucker-designed Bomore Course, is also on hand.)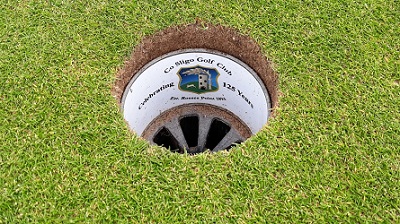 The course is a sturdy enough test to have hosted the West of Ireland Amateur Golf Championship since 1923, crowning such favorite son winners as Padraig Harrington, Rory McIlroy and, yes, Shane Lowry. It's been said that a young Bernard Langer once came here for a day and left a week later.
The course begins on a high plateau and when you come to the fifth tee it's like sitting in the mezzanine while the play's grand tableau stretches out below. But let fly and soon you'll be down among the other actors, with many scenes both comic and tragic yet to come. Yeats knew all about it: "Being Irish, he had an abiding sense of tragedy, which sustained him through temporary periods of joy."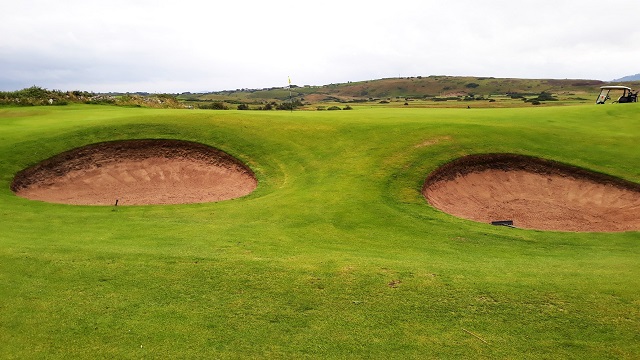 Inland Golf in Ireland?
There are more than 400 golf courses in Ireland, so it's reasonable to suggest getting moving. If one has never played links golf, it's a virtual necessity. And with such a plenitude of great links golf, it might be a reasonable question why one would want to play anything but on a short visit? We found out.
Not every course in Ireland is hard by the sea, and there are charms to be had inland as well. Our arresting example came by way of our return trip toward Dublin, when we paused in Castleblayney in County Monaghan.
Though the Castleblayney Golf Club began as nine holes in 1905, it's fortunes and locations came and went through the decades. It was reborn in 1985 and moved to its current location as the Concra Wood Golf Course Castleblayney in 2008.
The course was designed by two of Ireland's late golfing legends, Christy O'Connor Junior and Senior (his uncle). They had a unique site to work with, working though hills and forests adjacent to a massive lake, Lough Muckno, locally renowned for its fishing. (Indeed, both the lake and the course have held professional tournaments.).
The Lough may not be the Atlantic, but the way its views work sinuously through the course layout is nothing short of exhilarating. This is especially true on the tenth hole, calling for a fairly routine drive to an unwontedly level fairway.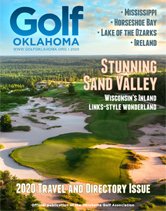 And by the time you reach the ball the land falls precipitously away, to a green far below, your puny strategy problems eclipsed by the splendor of the valley view outstretching ahead, seemingly to the ends of earth. Why play a non-links course in Ireland? This was one resounding answer.
This piece originally appeared in the Golf Oklahoma 2020 Directory & Travel Issue, in somewhat different form.