Sunday, June 1, 2008: Back to Doughmore Bay
The fervor of international competition has arisen again, this time on the southwest Irish coast in County Clare, an all-American team taking on some rakish blokes (and one betty) from the UK and continent. The venue is the links course at Doonbeg, a modern gem fashioned by Greg Norman's design team, and surely one of his best efforts. I played here four years ago in a similar event (I had a hazy memory that we had lost, but that was stinking thinking, as Doonbeg emissary Roddy Guiney, who was captain at the time, assures me that the U.S. won in 2004). However that was before the luxury lodge, golf cottages, clubhouse, pro shop and various restaurants were constructed at the private club and resort. They were merely piles of dirt or stakes in the ground. Now they're like a cluster of castles at the bend of Doughmore Bay, the shape of which is reflected in the Doonbeg logo. It looks so different now I could barely find the first tee. Once I did, I went in search of a swing.
The course was still being tinkered with in 2004, too, and is being tinkered with still. As I played a practice round with mates Tom Harack and fellow Vermonter Larry Olmsted, I could see where a few holes had been softened, a few bunkers eradicated, a few greens moved.
But the essential links golf experience was intact, and the lightly breezy day was sunny and warm enough to wear shorts.
I wish I could say I was playing well, but the usual short game woes attended me, and I flailed away for quite some time in a couple of deep pot bunkers. But it was a jet lag round, after all.
Monday, June 2: Handle Pot Bunkers With Care
Another practice round was the order of the day, though not before a sorely needed pot bunker lesson over at the extensive practice range at Doonbeg, rendered by assistant pro John Dooley.
John had me back off from the ball a bit so I would less crouched over it, had me strengthen my left hand grip, and suggested a smooth swing tempo, moving through the ball area. The length of the takeaway, he suggested, was the key to distance control from the sand. It worked from the practice bunkers.
I already knew the hellacious bunker that used to snatch balls right off the back of the eleventh green into an unforgivingly deep pit was no longer, one of the numerous attempts to soften the course.
Buddy Darby, Chairman and CEO of Kiawah Development Partners, the force behind Doonbeg, said the course in its initial incarnation could best be termed, "Greg Norman meets God." Norman was so taken with the Irish linksland handed to him that he went epic.
"The course was simply too hard at first," Darby said. "Greg played it and lost five balls. So I said to him, 'Where do I put that in the marketing literature?'"
Darby was also wearing the Captain's hat for our team, in place of actor Bruce McGill, who at the last minute took on a role presumably more appealing than spurring us on to victory. McGill played Walter Hagen in "The Legend of Bagger Vance," but he may always be best known as D-Day, who thumps out the William Tell Overture on his throat in "Animal House."
McGill is now filming a production aptly titled for a golf movie, "Obsessed," but it's apparently about something less interesting (lethal stalking). I was looking forward to talking to him about one of my all-time favorites and McGill's first (of over 120) film roles, in Jonathan Demme's "Handle With Care." Actually, I wanted to bellyache about it's not being on DVD. Then I was hoping he'd play Irish tunes on his throat.
Tuesday, June 3: Round One
My taxi driver to Doonbeg, Martin Murphy, had said that the beds at the Lodge were the most comfortable in the country, which they should be, at about $5,000 apiece. They certainly did the job last night, but then a bed of nails might have as well, following the evening's competitive whiskey tasting. No one remembers who won.
The pairings were announced at dinner. Larry Olmsted and I were to battle Irish Times reporter John O'Sullivan and Golf International publisher Richard Simmons. We laughed in the face of Simmons' formidable 1-handicap, right up to the moment we lost the match 4 and 3.
Our mates weren't faring much better elsewhere in the field, and the day ended with the Euros sporting a 3-1 lead.
This evening's consolation was a fine meal at Naughton's of Kilkee, and a few more pints, music and reeling, good craic, at the Comerford pub in Doonbeg.
Perhaps to give us a fighting chance, the format for Wednesday's round was set up as two nine-hole matches.
Wednesday, June 4: Once More Unto the Breach
Well, that didn't help. Nor did Captain Buddy Darby's seemingly inspired pairing of the two Toms, myself and writer Tom Harack, to take on Simmons (again!), this time paired with Dominik Holyer, an on air TV "presenter" for Setanta Golf.
Off to a promising start, I faded to invisibility, and neither of us were sinking any winning putts. We lost both matches, leaving my 2008 record in international competition unblemished by victory. Meanwhile, the rest of the U.S. team was also taking it on the chin.
This was little to do but be gracious at the Awards Dinner and try to enjoy another ravishing Doonbeg meal. With ample Guinness on hand, the jokes were flying as fast as the chatter about the Presidential campaign. European interest in our political doings is remarkably acute, right down to familiarity with our primaries, while I was hard-pressed to name the Irish prime minister (Brian Cowen).
The Euros were also quite polite about not criticizing President Bush, at least until I mentioned my own lack of enthusiasm. Then we were off to the races.
Thursday, June 5: Old Tom Abused by Old Tom
A few of us lingered one more day to play the classic links at Lahinch, designed by Old Tom Morris in 1897, re-designed by Alister MacKenzie in 1928, and then largely restored to MacKenzie's intentions by Martin Hawtree in 2003.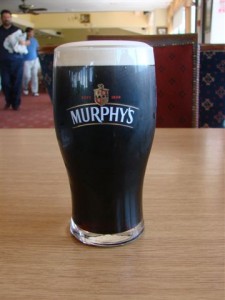 Few modern designers would have the nerve to insist on the numerous blind and quirky shots extant here, but at least they're still here, such as The Dell hole, the par-3 sixth, totally blind from the tee. (On some days, the top of the flag may be evident).
My second shot on the third came to rest in a John Deere utility vehicle, a recovery shot Old Tom surely never planned for, and from which I never really recovered. If a shame to play poorly on such a lovely course, it was nonetheless also a lovely day, the company was good, and the post-round Murphy's quenching.
We wrapped it all up back at Darby's pub and restaurant at Doonbeg, pondering the new development the KDP folk are cooking up at Christophe Harbor in St. Kitts, a destination golf club, marina and resort community looking to blossom in 2011. Tom Fazio will design the course, and the U.S. team will try to come up with a better strategy.