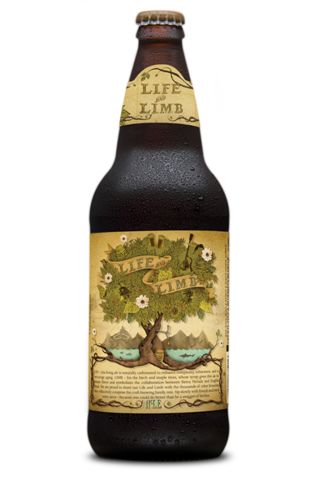 Ranked right after Anchor in my personal Beer Hall of Fame is the Sierra Nevada Brewing Company of Chico, California.  Founder Ken Grossman has been doing it right for three decades now, and the company is marking its 30th anniversary this year with an exciting project–four special brews with four men who helped make the craft beer movement what it is today.
The first will be with Fritz Maytag of Anchor, a Pioneers Stout to be released in mid-March.  The second will be in cahoots with Fred Eckhardt (in the running as the longest-practicing beer writer) and Charlie Papazian (whose writing spawned thousands upon thousands of homebrewers, not a few of whom turned pro).  Jack McAuliffe, who founded what is often called the first American micro (though now defunct), the New Albion Brewery, will have a hand in the third brew.
The final beer in the series will be a blend of SN's flagship Pale Ale, the annual Celebration Ale, and an oak-aged version of Bigfoot Barleywine Style Ale. I'm licking my chops already.
Collaboration is certainly the name of the game in the craft beer world these days.  The usual template is for a couple of well-known breweries to get together, work out the logistics and a recipe, and ultimately produce a beer with a lot of hoopla but often limited distribution.
Such was the case when Sierra Nevada linked up with the east coast star of innovative brewing, Sam Calagione of Dogfish Head Craft Brewery in Delaware, to produce Life and Limb, a lid-lifter of a beer that I cracked open as my first of 2010.
I was lucky to have a bottle, and thanks to beverage manager Richard Gagnon of the Brattleboro Food Co-op for setting one aside for me.  Impossible to find in these parts was the draft-only Limb and Life, a beer produced from the second runnings of the Life and Limb mash.  (Commonly called a small beer, though this one was a hefty 5.2 ABV.)
The beer was brewed in Chico, and distributed by Sierra Nevada, but there were certainly Dogfish Head fingerprints all over it, including the addition of maple syrup from the Calagione family farm in Massachusetts.  Not to be left out, Grossman contributed barley grown right at the brewery site.  Bottle-conditioned with yeast from each brewery's house strains and carbonated with birch syrup from Alaska, the result could have been a muddled disaster.
But neither brewery releases the experiments gone awry, and indeed this was a dark beauty, a richly sweet sipping beer with a prune and roast character, and a warming alcohol wash.  The beer could surely be laid down for a few years, but who has enough patience, or bottles, for that?
Name: Life and Limb
Brewer: Sierra Nevada Brewing Co., Chico, California; Dogfish Head Craft Brewery, Milton, Delaware
Style: Of its own, but a strong dark ale
ABV: 10.2%
Availability: Good luck
For More Information: life-limb.com