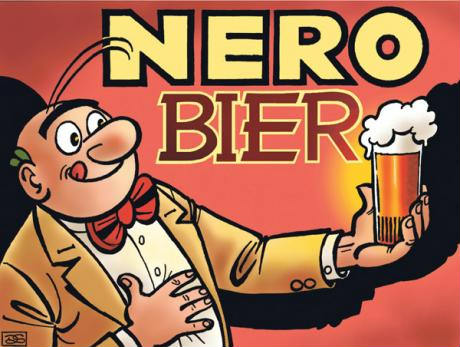 In 1947 Belgian cartoonist Marc Sleen introduced a comic strip character, Nero, who would be around for a long time–as would much more comic art from Sleen's pen. He is in the Guinness Book of World Records as single-handedly producing more issues of a comic book series than any other artist. In all he produced 125,592 drawings, 20 comic strip series, with 378 album covers and on-the-spot drawings of the Tour de France for variety.
So it's no great surprise that a compact Marc Sleen Museum stands alone in Brussels across the street from the more expansive museum holdings of the Belgian Comic Strip Center, one of the major tourist stops in the city.
Belgians love their comics, and their Art Nouveau, which makes the Center a perfect fit, housed in a 1906 Art Nouveau masterpiece designed by Victor Horta.
The animating spirit of Belgian comic art, Tintin, is now animated (well, in 3-D motion-capture animation at any rate) in the Peter Jackson-produced and Steven Spielberg-directed "The Adventures of Tintin: The Secret of the Unicorn." Spielberg was on hand for the premiere in Brussels on October 22, preceding the widespread U.S. debut now on hand:
Tintin and his creator, the late Hergé, are Belgian icons. Hergé was born Georges Remi in 1907 in Brussels, but signed his drawings Hergé for his initials in reverse (RG). Tintin came along in 1929, Hergé did 23 books of his adventures up to his death in 1983, and then there were no more–as he had directed in his will.
About the time of Hergé's death the Horta building was looking for a stay of execution. The former textile warehouse, empty for twenty years except for squatters was in ruins, on the verge of destruction, about to become a parking lot.
Some 200,000 visitors now stream through the site annually to see the happier ending that ensued.
Sleen, meanwhile, is still very much alive as he approaches his 90th birthday on December 30. He's reportedly delighted with the museum in his name, and with the beer named after his best-loved character.
In the very first Nero strip Sleen drew in 1947, a criminal is uncovered using beer to brainwash Belgians into doing his bidding; in a subsequent adventure Nero discovers a beer tree in Rwanda which makes him rich.
There's no beer tree at the Marc Sleen Museum, but there is the beer, available only there or in the café at the Comic Strip Center. It was brewed as a one-off by the De Proef Brouwerij in Locristi, but proved popular enough that larger production is being considered. I was lucky enough to sample some there in early May and bring a bottle safely home as well.
It's a cloudy amber ale that is quite hoppy by Belgian standards, verging on an IPA, with a deep hop nose. It's floral and fruity, the Nelson Sauvin hop throwing off notes of pineapple and mango. There's a hearty malt character, but not overly sweet, with a brisk finish.
I just finished off the bottle fairly briskly as well in the spirit of it all–not only movie premieres, but the fact that the country finally has a new government.
We talk about gridlock in this country, but we have nothing on Belgium which, like Sleen, also set a record–the longest period in peacetime without an official government. Since the last general elections in June, 2010, the regions of the country–Flemish-speaking Flanders to the north, French-speaking Wallonia to the south (with a sliver of Germanic influence to the east)–were unable to agree on a ruling coalition.
Think René Magritte, and Belgium's surrealistic side may suggest the political imbroglio, only just settled after 541 days. Having historically been invaded by everyone from the Vikings and Romans to the Spanish, Dutch, French and Germans, the Belgians can perhaps be forgiven a slightly oblique world view.
When the record was broken last February many Belgians, typically enough, partied. In Ghent in the north citizens stripped in public. In Louvain-la-Neuve in the south, free beer was given away. Not Nero, though it surely would have worked as well.
Name: Nero Bier
Brewer: De Proef Brouwerij, Lochristi, Belgium
Style: Belgian ale
ABV: 6.5%
Availability: Only in Brussels at the Marc Sleen Museum and the Belgian Comic Strip Center
For More Information: About Marc Sleen: www.marc-sleen.be
About De Proef: www.sbs-imports.com/deproef.php