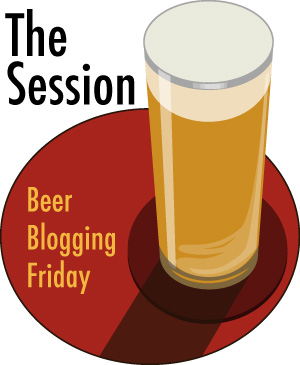 I had to admit, the packaging was a little different. Hefeweizens usually showed up in, well, hefty bottles, that I normally poured into glasses as tall and curvy as a Fräulein's calf. But this, this was a delicate little pouch, though colorful to be sure.
I also had to admit, that at four calories per each Jelly Belly Draft Beer Flavor Jelly Bean, this was going to be less filling than the usual Hefe-, even if the taste proved to be not so great. Even better: the beans were fat free, peanut free, dairy free, gluten free, even gelatin free. They were vegetarian! They were OU Kosher certified!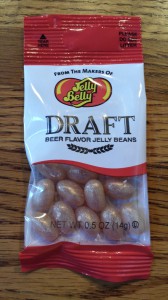 What they come nowhere near is adherence to the Reinheitsgebot, not with additions of sugar, corn syrup, modified food starch, natural and artificial flavors, food dyes, beeswax, Carnauba wax and a confectioner's glaze.
Still, they should know what they're doing. The original Goelitz family candy business dates back to 1869 in Belleville, Illinois. The jelly beans didn't come along until the 1960's, and the Jelly Belly beans as we know them today in 1976.
When Ronald Reagan's fondness for Jelly Bellys became known in 1980 it didn't hurt sales one bit. The company shipped two and a half tons of Jelly Bellys to Reagan's 1981 inauguration.
By 2001 the company officially became known as the Jelly Belly Candy Company, and had introduced over 100 different jelly bean flavors, including a few cocktails like Piña Colada and Mai Tai (like the Draft Beer, non-alcoholic). The company was the real-life embodiment of Bertie Bott's Every Flavour Beans from the Harry Potter series.
Actually, in 2000 the company began making Bertie Bott's Every Flavour Beans, which included the ones you didn't want to get, flavoured like dirt, earthworms, boogers or vomit.
But, I thought, if they can do vomit they ought to be able to do Hefeweizen. The creation of the Draft Beer bean is said to have taken three years. Rob Swaigen, the vice president of marketing for the company, said, "Anyone who enjoys a good, cold beer will enjoy Draft Beer Jelly Belly beans for the simple fact that it tastes just as you'd imagine."
That didn't scan well for me grammatically or in its reference to a good, cold beer. Sounded like something from a mid-20th century beer ad, and made me wonder if I should cool the beans in the refrigerator.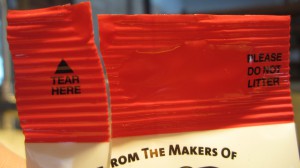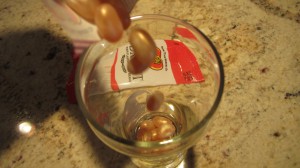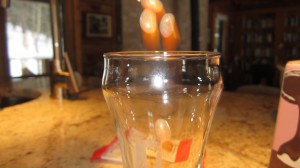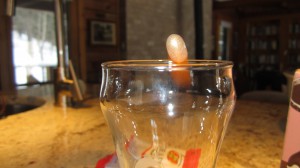 Finally I just decided it was time to rip into them, pour 'em out and take a gulp. But the pour, as tinkling as it was, called into question the whole "Draft Beer" nomenclature. No draft beer I ever had had piled up in a glass with quite such a sound.
I had only two .5-ounce servings, so I wasn't likely to go legless after downing the whole glass, which appropriately looked a little like beer nuts. But a close-up look shows a glistening orb that almost appears to contain a golden swirl of beer in a Weizen glass. Down the hatch:
The company says it was aiming at a mildly bready aroma, an effervescent, crisp flavor with notes of wheat. Nothing about cloves or banana esters.
Well, about all I'll say is this: A jelly bean it is. Weihenstephaner Hefeweissbier has nothing to worry about, at least in the short run.
But once there's a Jelly Belly Draft Beer IPA Flavor jelly bean, all bets are off.
***
The Session is a monthly effort where beer writers around the interwebs respond to a topic question. This is the 84th installment, so it's been going on for quite a while. The list of responses this month can be accessed here at Oliver Gray's always entertaining Literature & Libation. Oliver asked for alternative beer reviews, reviews that never mentioned a beer's taste, reviews that tapped into any creative impulse one cared to let loose. And he's getting them.
Related posts: The Session posts