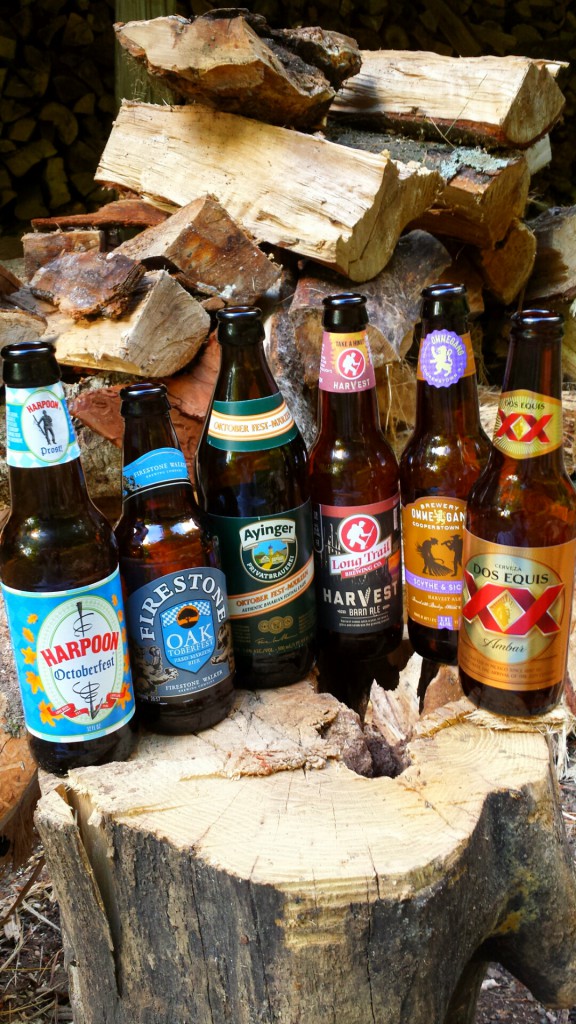 Oktoberfest 2014 officially began in Munich this past Saturday, September 20. It always begins two weeks prior to its close on the first Sunday in October, meaning the festival is more of a September than an October affair. In the U.S. this tidbit is often lost in the shuffle. But, to my mind, it's another good reason to hold off on those pumpkin beers until October, and giving the more traditional autumnal beer its due.
In two similar articles I did back in 2010 I mentioned the origins of Oktoberfest and the characteristics of the Märzen style, so no need to drone on about that here. Not that I stuck to Märzens or even lagers; in a piece called Fall Classics I packed a variety six-pack, while in the other, Perfect Brews for Fall, I listed nine beers. (Probably wrote that one originally for a golf magazine.) It should be enough to say that it's a good time for crisp, malt-accented brews, and a break from hop-heavy, palate-crushing double IPAs. Not that there's anything wrong with them, but hopheads shouldn't be looking for any dominant hop aromas here. The largely noble hops used are primarily for balanced bittering purposes.

I've selected six beers again this year, although sharp-eyed and sober readers will note I've again included Ayinger. A potential sign of indolence, I suppose. I'm more inclined to insist that it's four years down the leaf-covered road since the last nod for Ayinger, that the beer still tastes great, and that readers owe it to themselves to give it a try. Also, as with most of my beer recommendations, they're also what came readily to hand—what I could reasonably find nearby without waiting on a line or driving for hours—in short, good beer with little effort. Prosit!
1) Oktober Fest-Märzen (Ayinger Brewery, Germany, 5.8% ABV): Since it is about 15 miles outside of Munich the Ayinger Brewery's Fest-Märzen isn't served at the Oktoberfest, which calls into question one's potential attendance. But the late beer writer Michael Jackson said, "Everyone should go to Oktoberfest, although once might be enough." So if I had a bucket list I'd surely add a trip to the festival. I'd also add a visit to the Ayinger Gasthaus Brewery Hotel. Meanwhile we have the beers from a brewery founded in 1878, still family-owned, imported here by Merchant du Vin. This lightly copper brew has a fragrant candy apple nose, with a hint of pear, a toasted malt palate with a distinct and pleasing drying finish.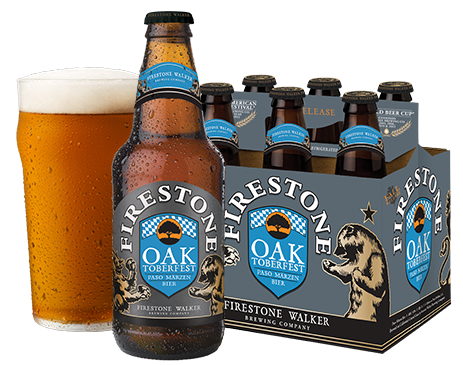 2) Oaktoberfest Paso Märzen Bier (Firestone Walker Brewing Company, California, 5%): A light copper brew from a company known for its oak barrel fermentation practices, but this brew is 100% stainless steel, the "oak" in the name referring to the brewery site in Paso Robles, "Pass of the Oaks" in Spanish. The candy sweet nose follows through with a toasted honey palate, but a sharp and spicy carbonation bite on mid-tongue. A regular draft offering at the brewery's local Oaktoberfest celebrations, this is the first bottled version, made a bit sweeter than in year's past, but a bit drier and hoppier as well.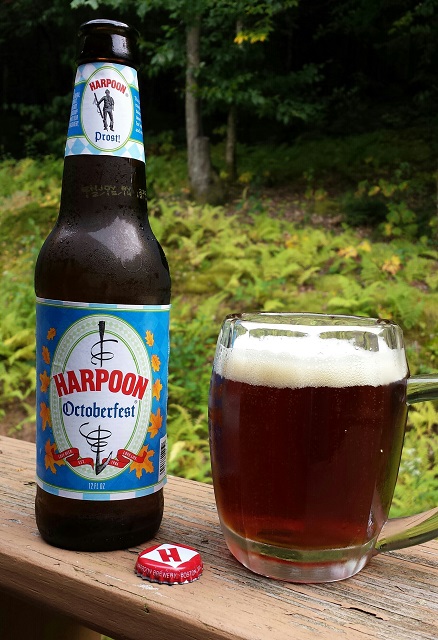 3) Octoberfest (Harpoon Brewery, 5.3%): A more russet-colored brew than the previous two, Harpoon's entry also has a richer malt profile, but like the Firestone, a fine compensating finishing bite as well. The brewery, headquartered in Boston with another plant in Vermont, first brewed the beer in 1989, and held its first Octoberfest event the following year. Now it holds one in each state, attended by some 25,000 people last year. The 25th annual in Boston will be October 3 and 4, complete with bratwursts, chicken dancing and German chocolate cake-eating contests. You can do it all again the following week in Vermont, October 11 and 12.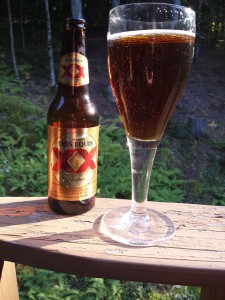 4) Dos Equis XX Ambar (Mexico, 4.7%): Say what? No need for great surprise here. Among the 1890 founders of the Cuauhtémoc Moctezuma Brewery in Monterrey, Mexico was Wilhelm Hasse, a German, who in 1897 produced Siglo XX, later Dos Equis, the XX a reference to the upcoming Twentieth Century. Hasse—one of the most interesting men in the world?–made what he considered a Vienna Lager, a style usually just a bit more restrained in its malt profile than Oktoberfests. But there's a notable hint of toasted malt in Dos Equis, maybe a little sweet corn. The beer is available year-round; it undoubtedly tastes better in Mexico, but a current sweepstakes gives drinkers a chance to win a trip to the brand's Masquerade extravaganza in New Orleans.
So much for the lagers. Here are a couple of harvest ales, clearly made in the same spirit:
5) Harvest Barn Ale (Long Trail Brewing Co., Vermont, 4.4%): Come to think of it, this is a repeat, too, although as with all Long Trail beers in the last year the labels have been rebranded, some lines have been discontinued (Blackbeary Wheat) and others (Limbo IPA) have debuted promisingly. The old Harvest Ale is now Harvest Barn Ale, part of a Fall Survival 12-pack but also available on its own. It's still a mild, sweet, fragrant brown ale with a touch of maple syrup in the mix and a touch of roast in the nose. Or is that the smoke from the (illegal) pile of burning leaves next door?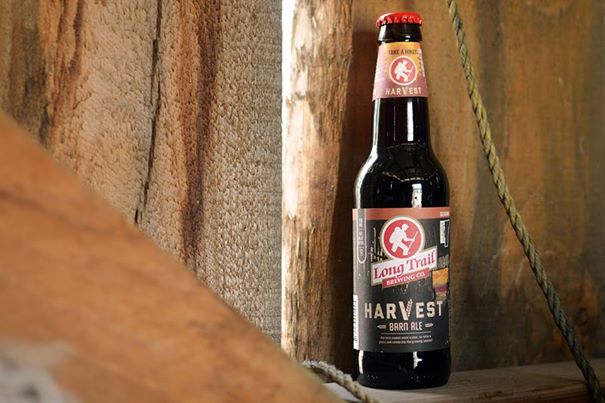 6) Scythe and Sickle Harvest Ale (Brewery Ommegang, New York): At 5.8% ABV this is one of Ommegang's more restrained entries, but with waves of grain at work—barley, oats, wheat, and rye—the result is still a complex ride, with a bready, toasty, honey sweetness intermingling with a spicy tang. It is recommended to pour this one gently off the sediment, as there is a noticeable yeast bite. But this is perhaps my favorite of the bunch because of the typical use of Belgian yeast at the Cooperstown brewery (owned by Moortgat, maker of Duvel). True, this may be stretching the boundaries a bit. But I don't think you'll care.