I played a memorable round at Crystal Downs with Tom Doak a couple of years back. Two other golf journalists were along; they will remain nameless for their protection. (Michigan isn't Colorado.) Crystal Downs, in Frankfort, Michigan, is one of the world's great courses, a 1929 Alister MacKenzie and Perry Maxwell design.
It is, in a word, crucial in Doak's personal and professional life. He moved to the area from the east to be near the course. It inspired him to be a golf course designer. His first design job arose out of his association with the course. He wrote a book about MacKenzie.
Playing such a course with, arguably, the most in-demand course designer in the world? No pressure. I went out in 39, four-over. Then one of my journalist colleagues suggested I partake of an herbal concoction he was just then torching up. And, dear reader, I did. I came in in 59, 24-over.
I'm not sure Doak was ever aware of our transgression, one I have studiously avoided since while playing. He remained a genial host over a clubhouse lunch, talking over his current projects. As I was mostly trying to deal with the shock of my golfing transmogrification I don't recall a lot of this.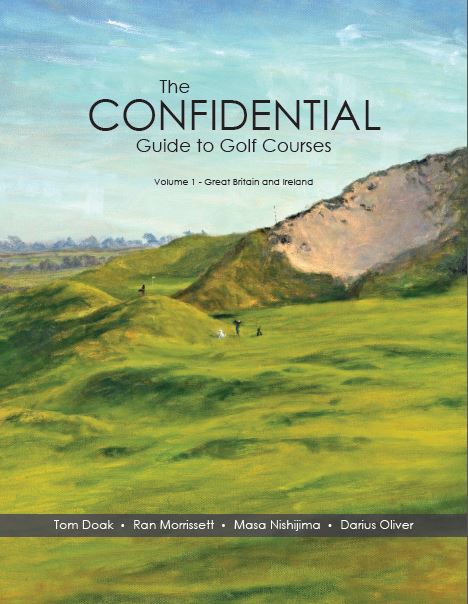 He may have even discussed the transmogrification of the original manuscript of "The Confidential Guide to Golf Courses" from its modest beginnings to near-legendary collectors' status to its new incarnation, a planned five-volume library of world-wide golf course critiques. The first volume is out now, on the courses of Great Britain and Ireland. Look for a new volume in each of the next four years, in this order: The Americas (winter destinations); The Americas (summer destinations); Europe, Middle East and Africa, and lastly Asia, Australia and New Zealand.
Doak's design career was in an embryonic state when the Guide first came out in 1988, forty copies he sent to friends with his unvarnished musings on some of the world's great, or less great, courses. As he notes in the introduction to the new version, "By the time the book was published for a mainstream audience, in 1996, it might as well have been titled The Controversial Guide."
Doak's real impulse initially was to tell his friends about the great courses in the world. But it was his blunt criticisms of others that raised the most dust and ruffled feathers of other designers, course owners or operators. Some accused him of knocking down other designers to further his own aspirations.
So why go through all this again? Less to stir the pot, he insists, than to reveal the "many wonderful golf courses overlooked and unloved" in the typical top-100 lists. And, he says, "I'm back because I missed writing."
And write he did, since the new Guide, or guides, are essentially new works. Aside from the five-way volume split, the most dramatic difference is that Doak has taken on three collaborators to help track down more courses: Ran Morrissett of Southern Pines, North Carolina, the founder of golfclubatlas.com; Masa Nishijima of Tokyo, a contributing editor on course architecture for Japan Golf Magazine and Choice Golf; Darius Oliver, author and architecture editor of Australian Golf Digest.
The four use the same 0-10 Doak Scale rating system to attach to the capsule reviews (most of those in Doak's voice), and share writing on longer pieces about 18 favorite Gourmet's Choice courses in each volume. It's a handsome magazine-sized book with plenty of photos and intriguing hole diagrams, and it's pricey–$60 per volume plus $10 shipping. A $280 pre-order of all five volumes works out to a $20 discount. (Go to http://www.renaissancegolf.com/books for ordering information.)
Is it worth it? The answer for many traveling golfers, actual or armchair, will be an unqualified yes. Having been to many of the courses in this book I found it like catnip, tossing my nose around in it until sated and nearly senseless, but then coming back later for more.
There's a lot to dive into here. Aside from the 18 favorite courses pieces are four main review sections (Scotland, England, Wales and Ireland) further broken down into regional categories, since Doak recommends visitors feast on locales rather than crisscrossing countries in an exhausting attempt to notch one's belt with the all-star courses.
And even while decrying the nefarious nature of "best-of" lists, there are about 20 pages of lists at the end of the book. But these are less for ranking purposes than for fun—"Best Clubhouse Lunch," "Courses Worth Groveling to Play," "Best Courses to Play With Your Dog," "Schizophrenic Courses," "Most Ammo Required" and so on, including "Most Fun to Play." (I might add "Courses Where It's Best to Avoid Getting Stoned.")
I was happy to see North Berwick, one of my favorites, on the top of the "Fun to Play" list, and also as one of the Gourmet's Choice picks. But everyone will find something to disagree with here, and that, too, is part of the fun.
Doak, older and wiser, may be a little less cantankerous than in the earlier version of the Guide, although he notes there's a lot less to be cantankerous about when discussing the courses in this book: "Great Britain and Ireland have largely avoided the monstrous displays of earthmoving muscle foisted upon the earth by golf architects in America and, especially, Asia," which promises more lively discussion in the volumes ahead.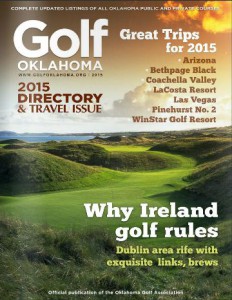 It didn't stop him from slapping a 0 rating ("A course so contrived and unnatural that it may poison your mind….") on the Castle Course at St. Andrews, the only one in the book so distinguished. (Nishijima and Oliver both give it a 5: "Well above the average golf course….")
One course received an across the board 10 ("Nearly perfect…."), the Old Course at St. Andrews. Four other courses in the world have received four 10s, but they won't appear until the later volumes. Stay tuned, or start guessing.
This piece originally appeared in the 2015 Directory & Travel Issue of Golf Oklahoma magazine, in slightly different form.
Related post: Where and How to Play