[Sept 10, 2019]–Arnold Palmer died on September 25, 2016, shortly after his 87th birthday. As the many tributes streaming forth today attest—it being his 90th birthday—his impact on the world of golf is still lively. I wrote the following piece back in 2012, for the briefly resurrected Golf Illustrated magazine, that attempted to capture just what some of that impact was. Palmer was then 82 and, if starting to slow down some, still a vital force. There seems to be a decent sentence or two in here, so I'll let it run as is.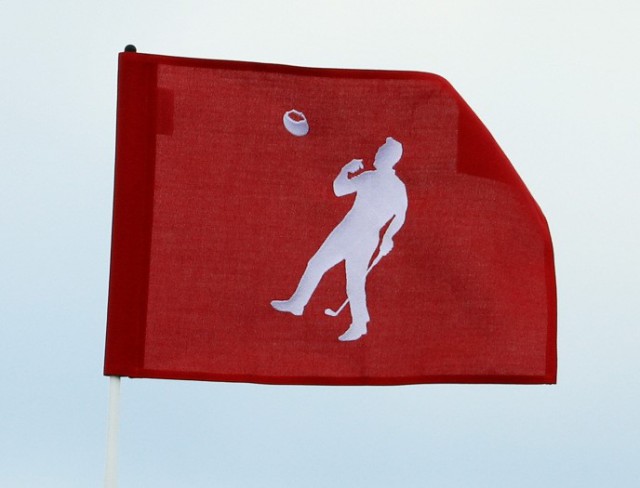 To those of us of a certain age, Arnold Palmer needs no further introduction than the usual ceremonial fanfare accompanying the King.
Younger golf fans may wonder what all the fuss is about. They see a kindly 82-year-old man on television perhaps teeing it up with his grandson Sam Saunders. Or talking about the 2012 Arnold Palmer Invitational Tournament, yet missing handing the trophy over to the winning Tiger Woods because of a trip to the hospital due to a blood pressure problem.
They just don't know, unless their parents—or grandparents—fill them in. Difficult though it may be to believe, anyone under 40 by next February 11 was yet to be born on the day Palmer last won on the regular PGA Tour. Palmer hoisted the trophy at the Bob Hope Desert Classic on February 11, 1973, his 62nd win, besting Jack Nicklaus and Johnny Miller by two strokes.
These young whippersnappers do need to be reminded that Arnold Daniel Palmer is not called the King for nothing, that in his days of glory he bestrode the golfing world like a colossus, raising huge armies, thrilling in victory and in defeat, worshiped like a god, not in the least because he didn't act like one.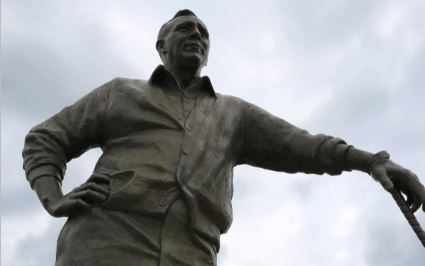 He developed his swing as a young boy when his father told him, "Hit it hard, go find it; hit it again." Volumes could be written about Palmer's swing alone, by both poets and mechanics. The latter would explain how Palmer's swing resembled nothing in today's textbooks, heading inside out, with a huge hip movement and steep shoulder turn, requiring immense physicality. His left heel was well off the ground and the follow-through ferocious, the torque almost requiring an equal and opposite recoil, followed by a distinctive dip of the head.
The poet might not call it a swing at all, as much as a rocket launch. Starting with a vise-like grip, astride the ball like a swordsman, the action sudden—almost shocking—a mighty lash that sent the ball screaming from the tee, Palmer bouncing back from the impact, club twirling above, his head bowing briefly, the deed done, the shot propelled, the journey to the next quest already underway….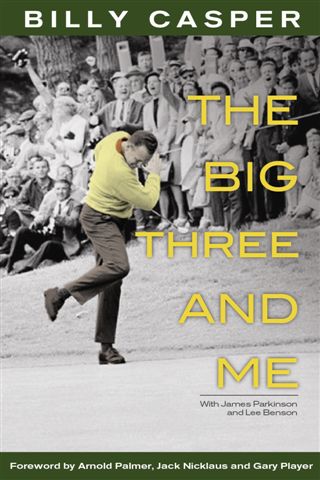 "He swung like a blacksmith," contemporary Billy Casper wrote in his recent autobiography (which Palmer penned a forward to). "He wanted to make birdies every time. They could have put the flag in the top of a tree and Palmer would have tried to figure out how he could get his ball on one of the limbs so he could get a birdie."
"The ball's scared of [Palmer]," said Bob Rosburg. "I guarantee he'll get it in the hole if he has to stare it in."
Yes, children, all that and more. A man for the ages, but who came of age at just the right time as far as professional golf was concerned. If Palmer hadn't come along, he couldn't have been as well invented. His most successful and exciting playing days dovetailed with the emergence of golf on television, and the relationship was symbiotic and catalytic.
The hordes of adoring fans that followed Arnie on the courses or at home via TV became known as Arnie's Army, and they ushered in the era of big money for professional players. Palmer was the rising tide that lifted all boats, and it was his contemporary, Frank Beard, who acknowledged it: "I figure that for every dollar I make I owe twenty-five cents to Arnold Palmer."
Casper said, "No one in the locker room disagreed with [Frank]…Although I don't recall anyone ever actually paying up."
But as Palmer once told me, "When I started there was no money…. My first year on the tour as a pro [1955], the total money for about 30 tournaments was around $750,000. Now, think about that."
I did think about that, reflecting that Louis Oosthuizen earned more than $750,000 for finishing second in the 2012 Masters–a single tournament!
"The purses then were about $10,000 for 150 guys each week. So it wasn't the money that drew me to it. It was the love of the game," said Palmer.
He turned professional shortly after winning the 1954 U.S. Amateur Championship. He wasn't the King then, of course. There was no Arnie's Army, no private jet to flit from tournament to tournament, no major titles.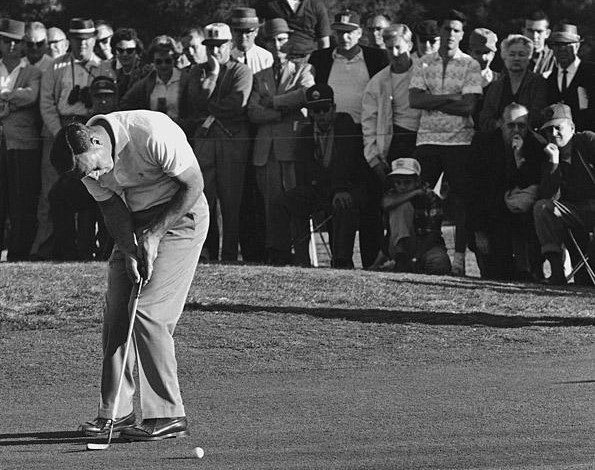 In 1958, when he showed up for the 22nd Masters, he was a sinewy 28-year-old with three full years on tour and eight wins under his belt. He was a rising star, and he was on something of a hot streak, with one win and three top three finishes in his last five tournaments.
But he was weary from losing a playoff in the Azalea Open (to Howie Johnson), then driving 280 miles across South Carolina to Augusta, arriving to find that his good friend, Dow Finsterwald, had arranged a match against Ben Hogan and Jackie Burke.
"I was looking forward to the game with Hogan and Burke, but I had been playing an awful lot of golf," Palmer recalled. "It worked out to the extent that we ended up beating them for $35, then an appreciable amount. But that was because Dow played extremely well. I played very poorly."
That led to a locker room rebuke that Palmer overheard the aging Hogan asking Burke, "How in hell did Palmer get in the Masters?"
"Yes, it hurt my feelings, hurt a lot," Palmer admitted. "But it probably did give me a little spurt to go on and do things a little better."
Yes, a little better. Palmer shot a 70 and 73 to trail Ken Venturi after two rounds, but Venturi fired 74 to Palmer's 68 in the third, leaving Palmer tied at 211 with the ageless Sam Snead.
In those days the leaders were not necessarily paired together, nor did they go out in the final group. Venturi and Palmer played together, and after a night and morning of rain, the players were allowed free drops from embedded lies through the green.
Still, when Palmer overshot the par-3 twelfth the rules official told him he couldn't lift the ball from the embedded lie. Palmer protested, played the ball out for a double bogey, then played the shot over with a drop, and scored a three.
More impressively, without knowing if the officials were going to credit him with a five or a three, Palmer promptly eagled the par-5 thirteenth with a drive and a three wood he has since called the greatest shot of his career.
"I smoked it pretty well, knocked it on the green and then tapped it in for a little eagle." The tap-in was actually an 18-footer. The ruling that Palmer had scored a three on the twelfth came two holes later, and at the end of the round all he had to do was wait close to an hour to see if anyone could catch him.
No one could, although both Doug Ford and Fred Hawkins had birdie putts to tie on the eighteenth. "But they were long putts," Palmer said, in retrospective amusement.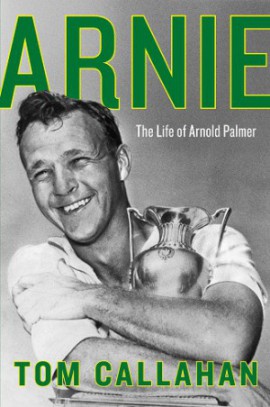 Palmer would win three more Masters, in 1960, 1962 and 1964, the U.S. Open in 1960, and the British Open Championship in 1961 and 1962. As Casper puts it:
"Between 1960 and 1962, Arnold won 22 tournaments, a total that included five majors. He collected $220,000 in winnings in that span, bought his own airplane and flew it from Tour stop to Tour stop, often piloting it himself. More than anything else, I believe the interest generated by what Arnold Palmer accomplished in those three seasons, and the flair with which he did it, ushered in the golden age of golf in the sixties and revolutionized the game. The rest of the golf world basically slid into his slipstream."
As his titles mounted and his popularity increased, so did the opportunities. Palmer made a handshake deal with Mark McCormack in 1959 that eventually changed a lot of worlds–the late McCormack's work ultimately resulting in IMG, now the largest sports management firm in the world. But in 1959, Palmer was McCormick's sole client, and as he said at the time, "[Palmer] was going to have to become a millionaire whether he liked it or not."
Indeed, Palmer has been a pitchman as well as a golfer ever since, and for the many millions of his off-course earnings he is still surpassed by only two other golfers these days–Tiger Woods and Phil Mickelson.
His own head swims a bit when asked about the scope of Arnold Palmer Enterprises: "Gosh, we do everything! We have clothing lines from shoes to hats and everything in between. I'm involved in The Golf Channel, Pebble Beach, Bay Hill and the Latrobe Country Club, Calloway Golf. There's the design firm, of course, and a lot of charity work, which is very important."
The PGA Championship was the one that got away; unlike Nicklaus and his other friend and rival, Gary Player (the trio still known as The Big Three, and now thrilling fans with all of them taking part in the ceremonial tee shots at the Masters), Palmer did not capture the career Grand Slam, with three second-place finishes in the PGA Championship.
Indeed, some of Palmer's losses in majors were as spectacular as his wins, thanks to his always charging style, including a crushing loss to Casper in the 1966 U.S. Open. But as Casper said, "As impressive as anything Arnold Palmer did in his entire career was the way he handled the press conference that followed."
Palmer could be gracious in defeat as well as victory, or hilarious. As he related the classic disaster hole story: "It happened at the Los Angeles Open one year. On my last hole, after my drive, I hit four balls out of bounds, and as a result I scored a 12 and missed the cut. I was having a beer later, and a reporter said, 'How in the hell did you make 12?' And I said, 'Well, I missed about a 20-foot putt for an eleven.'"
Why did the wins stop coming? Most say it was putting. Ever bold, Palmer used to ram putts at the hole, frequently well past the cup. When he was winning, he made the comebackers. He did go on to have a splendid record on the senior circuit as well, with ten wins and five majors. Not too shabby.
If he lost his putting touch, Palmer has never lost the common touch, that effortless charisma that still endears him to millions, but which he's never tried to analyze. He says, "I just get on with life and enjoy it."
Lucky for us.