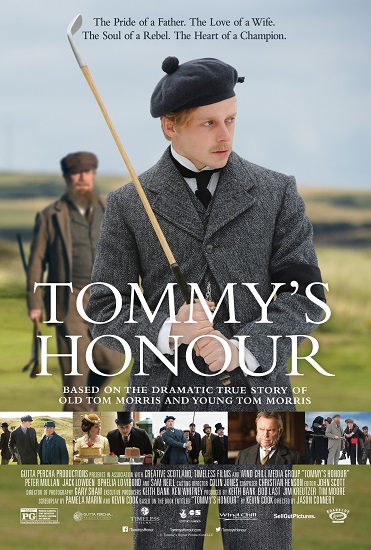 [May 22, 2017]–Add "Tommy's Honour" to that minuscule cinematic niche—golf movies that aren't goofy comedies. Based on Kevin Cook's book of the same name (if minus the 'u' in the U.S.) and with a screenplay by him and wife Pamela Marin, the film debuted in the U.S. in mid-April, and has already been picked up for subsequent showings on the Golf Channel.
Even non-golf fans might be attracted to the story of the Old and Young Tom Morris boys, because at its heart this is really a drama about the loving but tense relationship between a father and son, and the antagonisms that arise when Young Tom falls in love with Margaret Drinnen, a woman the family initially views with disdain.
The backdrop is Young Tom's initial forays and successes in playing the game, both with and against his father, who is proud of his son's triumphs but uneasy with his lack of deference to the golfing powers that be (such as Sam Neill of "Jurassic Park" fame, in the unlikable role as the unctuous head of the R&A). As Young Tom's playing prowess grows he increases his resistance to the prevailing class inequities, furthering his father's discomfiture.
Golf fans need no spoiler alert to know that things don't turn out well for Margaret or Young Tom, while Old Tom rolls on like a river. But the tale unfolds with a compelling poignancy and about as authentic a nod to golfing antiquity as one could hope for. Though made in Fife, Scotland, no golf turf was harmed in the making of the film. There's probably not a fairway in Scotland with grass as coarse as the greens the actors are putting on in the film. How they ever sunk a putt is an open question.
To American audiences Peter Mullan (Old Tom) is probably most recognizable from "War Horse," "Trainspotting" and "Tyrannosaur." Jack Lowden (Young Tom) also played a key role as the son in the English-French production of "The Tunnel" series. And Ophelia Lovibond, who plays Young Tom's wife, shows up in a recurring role in the CBS series "Elementary" as Sherlock Holmes' protege Kitty Winter.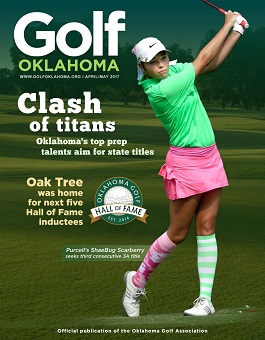 All credit to director Jason Connery (son of Sean, who squired Jason around more than a few golf courses) for encouraging fine performances from his cast, not to mention some time-appropriate golf swings. Neither Mullan nor Lowden had golfing backgrounds, a disgrace to their Scottish roots. Now either can fashion a sand tee with the best of them.
This piece originally appeared in the April-May 2017 issue of Golf Oklahoma magazine, in slightly different form.