At least on social media these days most GOAT discussions—who's the Greatest of All Time?–assume it's a two-man race in the world of golf between Jack Nicklaus and Tiger Woods.
Dissenting opinionators soberly submit the names of Ben Hogan or Bobby Jones, not without some reason. An oddball Canadian might shout out the name of Moe Norman.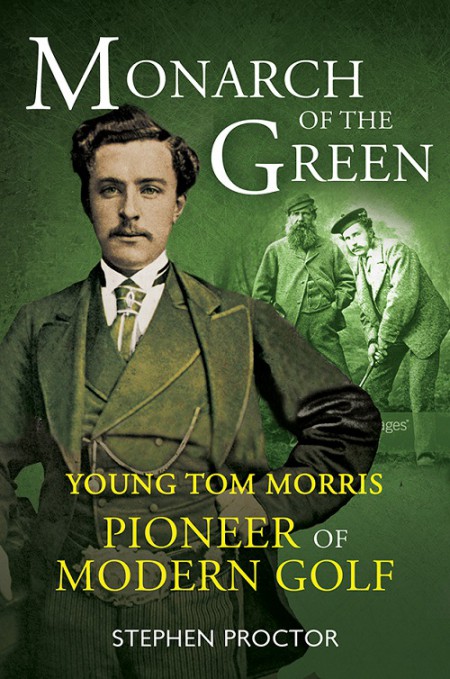 Stephen Proctor, a former newspaper editor, goes back even further in his brief, Monarch of the Green: Young Tom Morris, Pioneer of Modern Golf (Arena Sport, $28.95). He makes a pretty sound case that Young Tom may have been the best of them all, though his career was all too brief with his shocking death on Christmas morning, 1875, at age 24.
The story of the two Morris men, Young and Old Tom, is not exactly shrouded in dusty history. And, indeed, anyone who has visited St. Andrews and wandered over to the cemetery on the grounds of the St. Andrews Cathedral ruins cannot help but be struck by the memorial there to Tommy, erected through contributions from sixty golfing societies of the day. Such was the impact he had.
The memorial struck Proctor, too, with the idée fixe of restoring the luster to Tommy's career achievements and move his life beyond mere melodrama—the young golfer who supposedly died of a broken heart because of the death of his new-born son and his wife, during that birth.
Proctor relates the prodigal amount of research he did for the project; his bibliography runs for eight pages. Curiously, he never cites Tommy's Honour by Kevin Cook, a book which won the USGA's Herbert Warren Wind Book Award in 2007 and was subsequently made into a film of the same name in 2016 (reviewed here).
Well, maybe he does. In an afterward about the writing of the book Proctor notes that, "I have studiously avoided the temptation to create scenes, describing only those that could be reconstructed based on news reports or memoirs written by a person who lived in Tommy's age and saw him play. The same is true of quotes attributed to characters in this book. All of them were recorded by a contemporary of the person speaking."
Cook's book, which naturally covers much of the same ground, doesn't follow the same rules. Despite the book's acclaim, I never made it past a prologue which is clearly fiction. Such a writerly transgression in a work of purported nonfiction seemed to bother no one but purists, but I guess I am one, in that regard at least. One I might even forgive if the author at least acknowledged taking a few liberties. This Cook never does.
The downside of Proctor's admirable rigor is that the prose does lack some narrative zest. The accumulating accounts of Tommy's many victories and the running campaign to posit that he in fact changed the face of golf for subsequent generations becomes a little dry.
The case is nonetheless made because there's plenty to go on, beginning with the 16-year-old Tommy's first victory in a professional tournament at Carnoustie in 1867. The following year, then 17, he became (and remains) the youngest player to win a major tournament, the Open Championship.
He won the next two, too, and his three straight victories gave him the right to keep the Challenge Belt that previous victors had retained for only one year. (It is now in the R&A Clubhouse.) There was no tournament in 1871, but the first name inscribed in 1872 on the new trophy, the Claret Jug, was again Young Tom's. He remains the only player in history to win the same major championship in four consecutive tilts.
Proctor does a fine job of situating golf into the context of the times, and charting how the game was changing in the years that Young Tom played—often changing because of him. Old Tom was ever mindful and deferential to the class distinctions separating gentlemen from the working class, and being a professional golfer (if still a relatively new notion) did not place one in the former category.
But Young Tom was a bright, well-educated lad who cared little for social boundaries, and he could get away with it because he was usually making money for the gentry in high-stakes challenge matches, often teamed with his father. When these matches pitted teams from different towns they generated wild interest on the ground and in the press and can rightly be credited with growing the game.
Young Tom brought a like-minded headstrong quality to the links. If the style of play in the feathery days was a cautious, point-to-point plod, Tommy came of age as the gutta-percha ball took over, and he used it in a go-for-broke style. But his real skill, Proctor notes, came on the greens, where he often turned away before the putt even dropped and told his caddies, "Pick it out of the hole, laddie."
(Old Tom had less luck with his putter. One wag from the R&A addressed a letter to "Misser of Short Putts" and it was promptly delivered to Old Tom's door.)
Of recorded events Proctor was able to unearth, he posits that Young Tom played in at least 89 significant events, winning 54 of them, for an astonishing winning percentage of 60. (Tiger's is currently about 23%, Nicklaus about 15%. Jones comes in at 44%, Hogan at 23%. I can't seem to find any percentages for Nelson or Snead, but safe to assume they're right up there, too. It does raise the question why that stat isn't more prevalent?)
Tommy's death did indeed come less than four months after his wife and son died, and he was no doubt despondent. And though he did refrain from the 1875 Open Championship, held shortly after the dual funeral, he was soon out playing golf again. This included a marathon match against amateur Arthur Molesworth of 216 holes, much of it played in snowy weather. (Despite giving Arthur six strokes a round, 72 in all, Tommy won easily, 11 and 10.)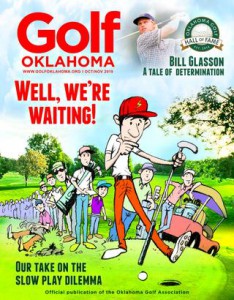 Young Tom died in his sleep, most likely of a ruptured aneurysm in one of his main arteries, resulting in fatal bleeding into his chest cavity. Others would say he died of a broken heart. Old Tom never put any credence to that. As he would often say, "If that was true, I wouldn't be here either."
This piece first appeared, in somewhat different form, in the Oct.-Nov. 2019 issue of Golf Oklahoma.