"Baseball reveals character; golf exposes it." – Ernie Banks
I was about seven months old when Babe Ruth died, yet in my youthful fascination with baseball no one loomed as large as the Sultan of Swat. And he remains affixed to the pinnacle, one of the sport's grandest, most mythic figures.
In his last few months astride the earth Ruth opined, "The greatest ballplayer to ever live was Ty Cobb." High praise for his former rival. And in Babe Ruth & The Scottish Game: Anecdotes of a Golf Fanatic (Chin Music Publishing, $19.99), author Douglas Vogel reveals that the two old pros were also great rivals out on the golf course.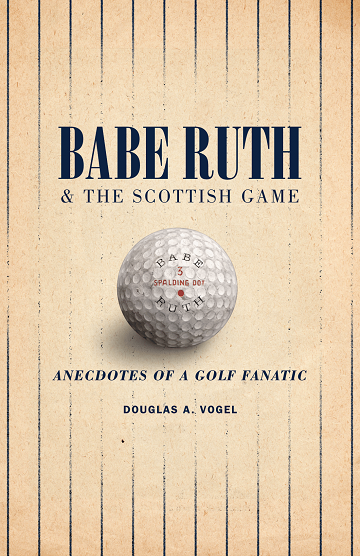 Ruth was indeed a golf fanatic, at a time when some managers (including Cobb) forbade their players from indulging in the sport on the theory that the golf swing was poisonous to a baseball swing. (A theory that, Vogel shows, holds no water.)
Ruth, who marched to a different drummer in all things, paid no heed in any case. He rarely traveled without his golf clubs at the ready. He played as a lefty, rare in those days, and in his early forays was a wild man—unsurprisingly long off the tee, but his rocket launches landing one knew not where.
He played everywhere, all the time, with teammates, other players, celebrities, professional golfers in friendly games, tournaments, charity events. He gradually honed his skills down to a single handicap and his rounds drew as much rabid attention as his ballplaying or, frankly, almost anything he did as the cynosure of his age.
Vogel is a golf course superintendent when not hunched over his keyboard. He stockpiles his anecdotes about Ruth and his golf game atop one another in kaleidoscopic fashion—shorn of chronology or narrative drive and frequently lacking any context of time for when the events occurred. He must have assumed it didn't matter. He's mostly right; the vignettes are entertaining enough to carry one through this slim volume with the leisurely appreciation of a Ruthian home run trot.
<<<>>>
"Keep your sense of humor. There's enough stress in the rest of your life not to let bad shots ruin a game you're supposed to enjoy." – Amy Alcott
I've sprinkled a few choice morsels from Favorite Golf Quotations (Hatherleigh Press, $12.50) in this post. Aside from the Ernie Banks quotation above, used for obvious purpose, most of the selections in this brief volume are from golfers themselves.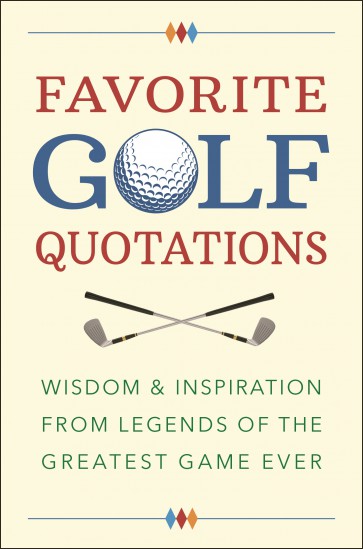 The same publisher's The Golfer's Book of Wit & Wisdom, reviewed here, was a bit more far-ranging in its contributors, and more aimed at laughs. And as this volume is "arranged" by Jackie Corley, there happily seems to be more bon mots from women professionals.
I can't detect a lot of overlap between the two books, so this will work for those still in need of a few apt quotes about a game that, as Tom Watson put it, "…combines the wonder of nature with the discipline of sport in such carefully planned ways. A great golf course both frees and challenges a golfer's mind."
<<<>>>
"They say golf is like life, but don't believe them. It's more complicated than that." – Gardner Dickinson
William Damon's A Round of Golf With My Father (Templeton Press, $24.95) is one of the most fascinating books I've read in quite some time, but I hasten to point out that it's not really a golf book. It's more of a psychological treatise—as the subtitle puts it, "The New Psychology of Exploring Your Past to Make Peace With Your Present."
Damon is a distinguished professor of developmental psychology at Stanford University, a scholar and author of a number of ground-breaking books on the subject including The Path to Purpose.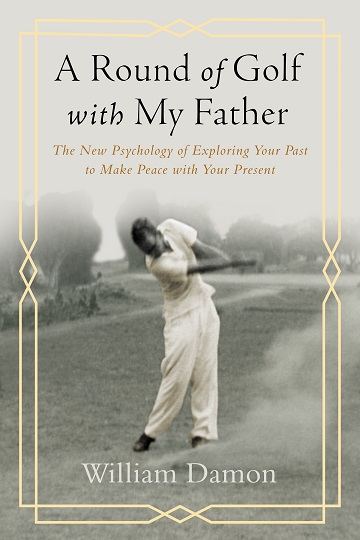 Damon had grown up thinking his father, whom he had never met, had vanished in the maw of World War II. But in his mid-60's he received a phone call from his daughter who had discovered information that set off a life-changing revelation—not only had his father survived the war, he had gone on to remarry, father more children, and had a fairly distinguished career abroad with the U.S. State Department.
His father had abandoned Damon and his mother. Yet curiously, with a wealth of new knowledge before him, the thing that struck and rankled Damon the most was the seemingly incidental news that his father was "a great golfer." (The cover of the book is a ghostly shot of his father, all in white, playing on a course in Thailand.)
Damon loved the game, and the thought that his father was never around to help coach him stuck in his craw. But it set him off on a decade-long investigation of a past he had previously ignored, a "life review" to discover whatever he could of his late father, and of himself. So amidst the psychological underpinnings there's a compelling mystery at work here as Damon uncovers more facets of his father's life through archival research and meeting with his newly discovered relatives.
The denouement takes place on a golf course, as Damon retraces his father's steps from one of the elder's youthful rounds, a round discovered from an antique scorecard buried in an old bag of his father's clubs that come his way.
The goal of it all was particular to him, yet Damon makes clear that the pursuit of such a life review could be beneficial to anyone seeking to arrive at a sense of gratitude for the path one has taken in life, dealing with regrets and, indeed, finding purpose even at a later point in one's life.
And that's quite a journey.
<<<>>>
"No one remembers who came in second." – Walter Hagen
In an attempt to refute Hagen, Steve Scott has written, with co-author Tripp Bowden, Hey, Tiger—You Need to Move Your Mark Back (Skyhorse Publishing, $19.95).
The title refers to the 1996 U.S. Amateur final round between Scott and Woods, what many say was the most exciting U.S. Amateur match ever played. Scott had Woods 5-down after the opening 18 holes at Pumpkin Ridge in Oregon, but by the 34th, Tiger had battled back to 2-down. Scott asked Woods to move his mark on the green and after Scott putted Woods appeared ready to go without properly replacing his mark. Hence Scott's comment which gives the book its title.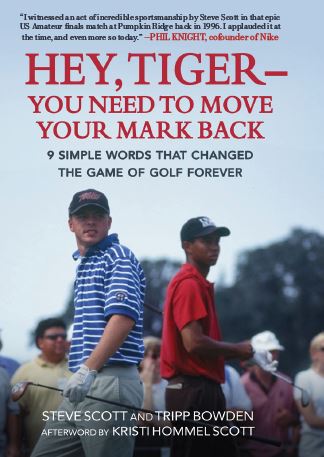 Had Woods not properly replaced his mark he would have lost the hole and the match. Thanks to Scott's bit of sportsmanship, according to the book's subtitle, it was: "9 Simple Words That Changed the Game of Golf Forever."
That may be overstating it. The time table might have shifted, but Woods' talents would have come to the fore in any case. In the case at hand, the match was won by Woods over Scott on the 38th hole for his third straight U.S. Amateur title, a feat accomplished by exactly no one else ever and the rest, as is said, was history. Tiger was off and running in his professional career onslaught, and Scott had, one could uncharitably say, a one-way ticket to Palookaville.
But Scott doesn't see it that way. Though his competitive golf career zig-zagged and finally sputtered out, he's a Class A PGA professional and instructor these days with fingers in various aspects of the game. He's married to his high school sweetheart, Kristi, who caddied for him throughout the Amateur rounds and contributes an Afterword to the book. They have two children and what sounds like a wonderful union.
In a 2017 review of Tripp Bowden's All the Memorable Rounds I accused the author of an overly jaunty style and an excess of jokey metaphors. He clearly didn't listen to me; all those writerly habits are on abundant display again; indeed, it's difficult to discern the voice in the book as Scott's or Bowden's, but it gets wearing in any case. Still, the account of Scott's various matches, and the title match in particular, manage to generate some excitement, even knowing the outcome.
And the main message, of remaining steadfast to the game's best traditions of sportsmanship, can't be faulted. It was, Scott surmises, his purpose in the match to uphold the spirit of the game. The book is, in a way, a life review of the event, dealing with the regrets, and ending in gratitude.
This piece originally appeared in the Aug.-Sept. 2021 issue of Golf Oklahoma magazine, in slightly different form.