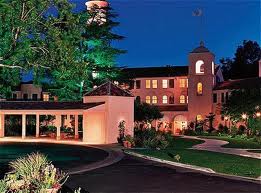 Much is made of the benefits of Pilates for more powerful golf ball striking, but it says here that a more compelling reason for us average golfers is freedom from pain, particularly the lower-back variety. I've all but eliminated the malady – which used to result in spasms slowing me down for five days — since taking up the practice.
If you wonder whether Pilates is for you, one what's-not-to-like approach is a visit to The Spa at the Fairmont Sonoma Mission Inn & Spa. The setting is, of course, especially gorgeous at this time of year and the spa offers Pilates for Golf, an expanded fitness program geared to the novice but strenuous enough for the already dedicated practitioner.
Pilates is a system of zero-impact exercises that focus on the core muscles in the abdomen to enhance strength, flexibility, range of motion, proper alignment, and balance, all of which in turn help to prevent injury.  Also sometimes referred to as the "power band," these core abdominal muscles' pivotal role in all athletic movement is frequently overlooked.
"It's exciting to be a part of the exponential growth in Pilates' popularity," says Jeanette Newman, the certified exercise physiologist / instructor who directs Fairmont Sonoma's Pilates for Golf.  "Probably because the practice has traditionally been marketed primarily to women, Pilates has generally been ignored by the guys, but the roster of golfer-devotees now includes Tiger Woods, along with Tina Mickelson," Phil's older sister, herself a "Class A" PGA Professional.
Indeed, the practice was Invented by and named for a guy, Joseph Pilates, a boxer, wrestler, and swimmer who as a young man devised the mat workout based on ancient Greek and Roman calisthenics.  A German national, he moved to New York City in 1929, where he met and collaborated with George Balanchine and Martha Graham to promote musculoskeletal health in professional dancers and athletes.
Pilates has recently been recognized as invaluable to golfers, whose movements produce many of the same physical stresses.  Golfers practicing Pilates are thus able to better maintain a consistent swing plane and to generate greater clubhead speed.  Even the rhythmic breathing of a Pilates workout can mitigate tension in pressure-packed match situations.  Not surprisingly, a number of PGA pros with histories of back troubles, like Rocco Mediate, have also become enthusiastic proponents of Pilates.
Often neglected in golfers' ardor for game improvement – especially for hitting the ball farther – is Pilates' value in ensuring good posture for frequent travelers.  Less-than-ergonomic airline seats, different and unfamiliar beds, long hours in front of a computer terminal – the elements of the traveler's routine add up to a formula for back pain.  Unlike, say, free weights, a simple Pilates routine of no more than 20 minutes can be completed without equipment, in one's own hotel room.
The Spa at the Fairmont Sonoma offers a variety of Pilates programs catering to guests' schedules and fitness needs, from single mat classes to six-week beginner and intermediate clinics that include two private sessions to evaluate individual alignment and conditioning goals.  Schedules and rates are available at www.fairmont.com/sonoma.
Perhaps best of all, participants in Pilates for Golf can immediately check their progress at Sonoma Golf Club, often described as a "core golf" experience thanks to its walkability and classic provenance.  Designed by Sam Whiting, also known as the architect of San Francisco's prestigious Olympic Club Lake Course, it dates to 1928 and is set on 177 acres at the foot of the Mayacama Mountains, amid lakes, mature forests, and vineyards.
Host to various qualifying tournaments for the PGA and the U.S. Open — and, more recently, the Charles Schwab Cup Championship, the season-ending event on the Champions Tour — the course, a par 72 measuring 7,087 yards, slope 132, is reserved exclusively for club members and guests of the Fairmont Sonoma Mission Inn & Spa.
# # #