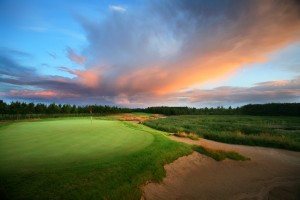 The strange beauty of Lübker Golf Resort's 27-hole layout springs from its combination of the exotic and the familiar, at least for us non-Danes. Located near Aarhus, Denmark's second-largest city, the terrain reminded this reporter of a cross between sandy-soiled Carolina and rugged Michigan, with marshlands, deciduous forests, and gorgeous native grasses. Two features seldom found elsewhere, separately or together, are several species of orchids and the Viking burial mounds adjacent to one fairway.
The designers, Palo Alto, California-based Robert Trent Jones II Golf Architects, would undoubtedly say that their work is site-specific and thus not given to "trademark" design elements. Fair enough. But one aspect common to most of the firm's courses is that they can be very difficult, especially from the back tees. Named Sky, Sand, and Forest, the three nines at Lübker range from just under 2,500 yards to just over 3,600, par 36. As rendered by chief designer Bruce Charlton, though, there are also numerous gestures to playability, like the sprawling waste bunkers that sometimes form forced carries but also serve as buffers between fairway and forest.
Conceived to be the new gold standard in Danish golf, the resort also has a thoroughly modern golf academy and a nine-hole, par-3 course, as well as first-rate dining and accommodations.
# # #