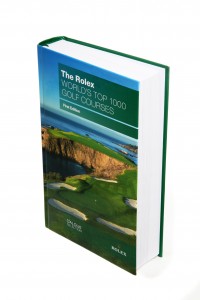 Considering the stupefying task at hand, there is much to admire about The Rolex World's Top 1000 Golf Courses, recently published by D'Algue Selection. It's a family enterprise for European golf luminary Gaetan Mourgue d'Algue and his daughter Kristel, the NCAA individual champion in 1995.
(Oddly full disclosure: This writer was commissioned by D'Algue to anonymously review several locations in upstate New York. A couple of these were very good – e.g., The Robert Trent Jones layout at Cornell University (http://bigred2.athletics.cornell.edu/golf/) and Soaring Eagles, one of the generally excellent state-run facilities (http://nysparks.state.ny.us/golf-courses/3/details.aspx) – but nothing in the top 1,000. So I seem to have been working on a separate project; in any event, none of the information appearing in the book is from me.)
The Top 1000 is meticulously detailed, with first-rate production values and, at more than 1,300 pages, there's an awful lot of information in here.
What's to be done with the information is unclear. There are, for instance, carefully scaled maps that could be a huge help in getting to an out-of-the-way course, but the volume is a bit unwieldy to be used as a guidebook.
At the same time, measuring 9-1/4 X 5-3/4 inches, it's not a coffee-table pictorial, either; in fact, the only golf course photos appear as frontispieces for new chapters.
The system for culling the top 1,000 wisely assigns a loose-fitting point system whereby the top courses get scores of 100 – there are only 15 of them among the 1,000 – with scores diminishing in five-point increments: 95, 90, 85,80, and so forth. Thus, there's some indication of different strata among the courses listed, but blessedly no attempt to rank them comprehensively.
That, of course, doesn't eliminate the inherent caprice of the undertaking. The "200 independent inspectors" compiling the material obviously strived for geographic diversity – a good thing – but the results inevitably remain skewed to the United States, with 362 entries, and Europe, with 282. Even the impulse toward parity raises questions, though, such as: Does it make sense that Portugal has 10 courses in the Top 1000, Puerto Rico only one?
For a certain sub-group of readers, presumably Rolex-clad, that's part of the fun, and the Top 1000 will provide an endless source of material for such discussions. Can't decide between Guatemala and Norway for your next golf vacation? You'll probably not find a more immediate reference in your golf-travel library. Look for The Rolex World's Top 1000 Golf Courses in golf stores and pro shops, MSRP $35.
# # #