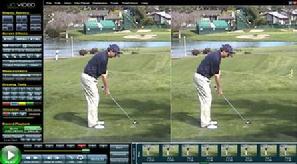 To a golfer, the idea of technological innovation tends to conjure up hardware: Clubs made of space-age alloys, with oversized heads in often-bizarre shapes, balls engineered to both fly farther and land softer, even tees designed to reduce friction.
The association is understandable, but restrictive. Like so many things in our world, advancing technology has altered every aspect of the game of golf, including the way we learn to play it. Again, the most tangible instructional aids may be on the hardware side: Increasingly sophisticated launch monitors analyze swing characteristics to facilitate precise club-fitting, and garage-sized simulators recreate amazingly lifelike facsimiles of playing famous courses around the world.
But the Internet offers the traveling golfer numerous paths to game improvement, most of them at nominal expense, many of them free. Perhaps best of all, this approach provides immense flexibility, as it can be accessed according to your schedule, from a hotel, airport lounge, or virtually wherever travel takes you. Indeed, many teaching professionals note that travel and golf instruction can be viewed as soul mates.
"Escaping the distractions of your everyday environment is a huge advantage in focusing on new golf skills," says Brad Yates, of VIP Golf Academy (www.vipgolfacademy.com), a network of golf schools specializing in corporate group instruction.
Some Internet-access golf-instruction options include the following.
When business next brings you to New York City, stop by the Randalls Island Golf Center – it is actually between LaGuardia and Kennedy airports and midtown Manhattan – and ask Rick Nielsen about the "smarter lessons" program, available in two-, four-, and six-month installments (www.ricknielsengolf.com). Nielsen, the center's director of golf and a Master PGA instructor, produces digital video of students' swings in a multi-faceted format that allows slow-motion and stop-action isolation of even the minutest segments of the movement.
Proper angles and "corrections" are then superimposed on the images and students are provided annotated DVDs or E-mail files of the video session. You can subsequently check your progress from the comfort of your hotel room by sending updated video to Nielsen; or you can supplement your initial video by having him prepare a side-by-side comparison of your swing and that of your favorite pro player. Your lesson also includes a free 30-minute introduction to Pilates from Nielsen, a certified instructor of the practice, which is also a great form of exercise while on the road.
Of course, assessing improvements in your game using video requires that you intermittently generate more video – ideal for those who learn best by absorbing visual input. Verbal pointers work better for some people, however, and the Shawn Humphries Golf Performance website (www.shawnhumphries.com) is a comprehensive source for such material. Based in Dallas, Humphries is a GOLF Magazine Top 100 instructor whose mantra is "building a repeatable swing."
The website is a cornucopia of training aids and DVDs, a "blog archive," video instruction, Shawn's Travel Journal, and more. He also broadcasts live, once-a-month "webinars" – one-hour programs on various instructional points. Past productions, naturally, are archived for your convenience.
Regardless of your game-improvement objectives, sometimes just reaffirming one's fascination with golf – and how much fun it can be – is enough, particularly for those of us in the north forced to suffer through the off-season. One way is to sign up for Golf Improvement Weekly, an E-mail newsletter from Golf Made Simple (www.GolfMadeSimple.com), which also operates golf schools in Florida, Arizona, California, Colorado, and Wisconsin. Weekly installments offer drills and other advice for playing better, but it is the not-too-serious tone that is especially appealing.
That spirit also pervades the Internet musings of California-based pro Kris Moe (www.krismoegolfschools.com), whose website combines golf and oenophilia. Moe plainly understands that as useful as technology is in teaching golf, there is no substitute for hands-on, face-to-face interaction.  So he even offers a playing lesson at your club of choice, including membership in his 19th Hole Wine Club.
# # #