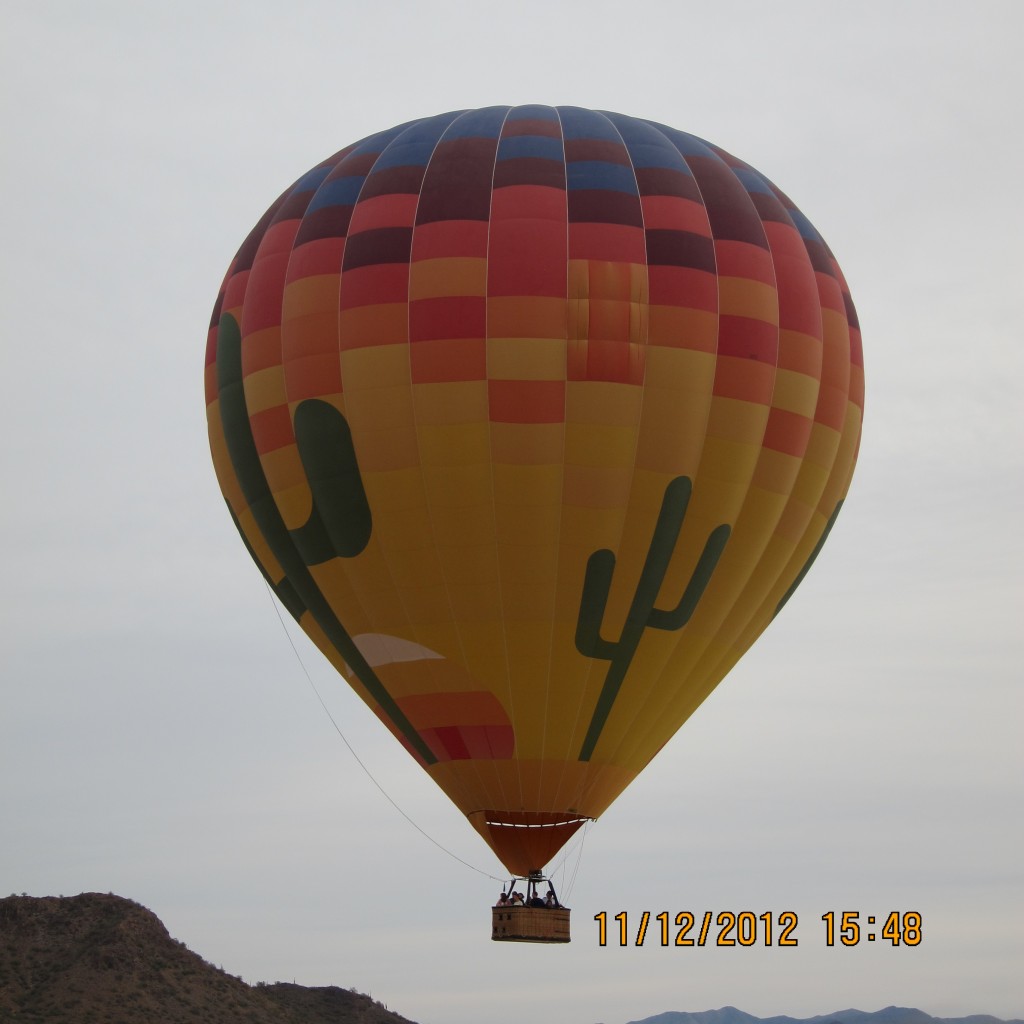 Every day should be like our last one in Scottsdale.
We left the lobby of the Westin Kierland just prior to dawn and, after a half-hour drive, arrived at a somewhat secluded spot in the Sonoran Desert. "Somewhat" because it was in fact proximate to a major thoroughfare, although one devoid of development; and because it was the staging area for a dozen or so hot air balloon flights.
Ours was run by an outfit called Hot Air Expeditions, Inc., but there seemed to be a kind of ballooning fraternity – not unlike our foursome, in a sense – of collegial competitor companies. Our captain, Patrick, combined technical know-how with a likeable running stand-up comedy routine designed to quell any acrophobic anxieties among the nine passengers.
It worked, at least as far as this writer, mildly fearful of heights, was concerned. And the flight provided a mesmerizing perspective on a larger-than-life ecosystem. There's even a small breakfast-celebration champagne toast – a century-old ballooning tradition, apparently – following your return to earth.
We didn't have time to relax, though, as we were running late for the Scottish Golf Experience back at the Westin: 18 holes in a rented kilt, belt, leather sporran (the reverse fanny pack), socks and garter-like "flashes." Oh, yeah, and we got around the Ironwood and Acacia nines on Segways, at least some of the time.
Designed by Scott Miller, the three sides are a good meld of the pure desert target model and a lusher look more familiar to resort players. Dry desert washes abut lakes and the 27 holes (the third nine is called Mesquite) have 300 bunkers scattered amid scrupulously maintained turf.
"New Age" and "golf" don't often appear in the same paragraph, but Westin Kierland's approach to their golf program is as "holistic" as we've seen. Not only is there traditional golf instruction, the resort has its own Cool Clubs satellite facility for clubfitting, as well as the FORE-MAX golf fitness studio under the direction of guru Steve Heller.
We also liked the idea behind their "Tee Master." He's a PGA pro named David Fisher who circulates among players warming up on the range. When asked by Fisher if there's anything they need prior to tee time, "a swing" is almost invariably the response. Fisher then checks their mechanics and suggests a quick fix – a swing thought for the day. The interaction also gives Fisher a chance to cover any special conditions relating to pace of play, course features, and so forth.
Some experiments are more successful than others. We surmised that they may nix the Segway concept, probably on advice of counsel. But even the Scottish thing – based principally on the area's connection to the immigrant population that built it – comes off as winsome, even as playing golf in the desert in woolen kilts initially seems silly.
#         #         #