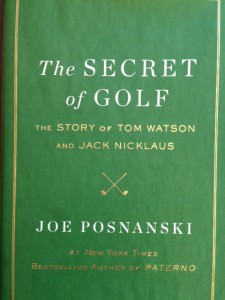 Veteran sports writer Joe Posnanski notes in the acknowledgements section of his latest book (he's probably best known for Paterno) that he wanted to pen an easy read, something "thin and light." At 236 pages of rather large type surrounded by ample white space, The Secret of Golf, subtitled The Story of Tom Watson and Jack Nicklaus, delivers.
If that sounds a bit catty, it isn't meant to be. Posnanski knows how to move the tale along. The occasional touch of hagiography is balanced by frank observations on the various characters' less attractive traits, especially Watson's. (He doesn't sugarcoat Watson's shortcomings as captain of the most recent Ryder Cup team, for example.) Posnanski does his homework and weaves his two decades of interaction with the principals seamlessly.
The question that occurred to me is: For whom is The Secret written? Posnanski feels it necessary to briefly explain who peripheral players like Sergio Garcia and Tom Weiskopf are, but these would presumably be household names to anyone interested in the book's topic in the first place. And that same audience already knows most of what appears in the text.
Not everything, of course. Who knew that Watson decisively favors washing the dishes by hand to machine washing, both in terms of results and as a family bonding exercise?
Still, while Posnanski's recounting of "The Duel in the Sun" is as gripping as any, at this point it has an awful lot of company. The most intense golf competition of all time? Perhaps we could just agree that it is and leave it at that.
No spoiler alert necessary: There is no secret of golf, or else they're too numerous to count.
#         #         #