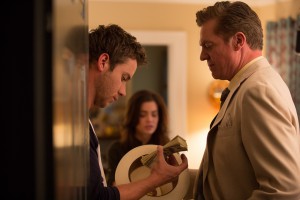 Terry Jastrow's cinematic directorial debut appears in selected major-market theaters today and there's much to like about it – yes, especially for, but not limited to, golfers.
Jastrow, who also wrote the screenplay, is best known for his work as prolific producer and director at ABC Sports, including Super Bowls, golf's major championships, and various Olympics.
You already know the plot behind The Squeeze because you've seen the template for it overlaid on other sporting endeavors, for example, playing pool and boxing. Thoroughly likeable small-town golf prodigy Augie Baccas (Jeremy Sumpter) and his spunky, sexy girlfriend Natalie (Jillian Murray) find themselves embroiled with unsavory professional Vegas gamblers with dueling viewpoints concerning the outcome of a big-money golf match Augie has on tap. Hence, the squeeze.
Throughout, Jastrow's craft is on display, including some fairly elaborate trick-shot golf sequences, particularly in early segments involving an "urban golf" match played down railroad tracks, alleyways, and Main Street.
Jastrow keeps the 97-minute film moving, so the production values are enough to keep you watching well after guessing the fall-from-grace-to-redemption arc of the tale. The acting is competent – Chris McDonald plays "Riverboat," Michael Nouri is "Jimmy Diamonds," two suitably slimy villains – but the nature of the roles often fails to rise above Central Casting dimensions.
George Plimpton once posited that the quality of literature (and presumably film) devoted to sports varies in inverse proportion to the size of the ball used to play them. (The analysis breaks down when we get to ping-pong, which, to my knowledge, has yet to inspire great art.) And certainly The Squeeze is a worthy addition to the sports canon.
But compared to subjects like, say, love and romance, it's a pretty shallow genre. Perhaps the phenomenon is related to our sports-crazed culture, which expresses itself almost exclusively in clichés and neat, preferably inspirational story lines.
 # # #