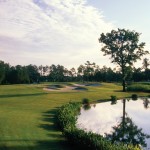 In the Northeast, this is the time of the year we call "cabin fever" time.
You've had it with snow, ice, cold, wind and no golf. Heck, we haven't seen the grass for two months. So what do we do? Well, my buddy Mark Eucalitto and I took an hour ride to an indoor practice facility called Four Seasons Golf Club.
Four Seasons is housed in a somewhat rundown former tennis club. But the owners and operators have made the insides come alive with an assortment of practice areas and almost a dozen golf simulators. It isn't the real thing but it will do for late winter. By the looks of it golf is in good stead, as the place was packed on a Sunday morning.
Other than picking up a club and holding it in my hands or rolling a few putts on the carpet in my office, I hadn't touched a club since in returned  from South Carolina in early January. It felt good to whack the little white sphere, even if it did only go 50 yards into the netting. Like riding a bicycle, the muscle memory involved in hitting a golf ball kicks in after a few seconds and you can imagine your drives soaring high and far and your nine-iron shots sticking close to the pin.
We also jumped into a sand trap area and spent a lot of time on the chipping mats. Then it was onto the putting green for an 18-hole match that further reenergized the competitive juices in both of us.
We checked out the golf simulators, which were packed on the day we visited Four Seasons. I know all about how they are supposed to be fun and give you more of a real life experience than merely banging balls into a net. But the guys we watched didn't seem like they were having all that much fun and it took forever between shots. Really? I think I would rather whack myself over the head with my putter than sit for hours playing a match on a golf simulator. If it ain't real, it ain't for me.
When we walked outside we were hit with a cold blast of air and temps in the 20's, which quickly wiped away any feeling we had in our hands. No, it will be another month or so before we got out onto real grass under blue skies and a spring sun. But at least we felt that there was a ray of hope and that our swings hadn't evaporated into the wild winter winds.
I was at the Hartfird, Ct. Golf Show this weekend and the place was packed, which is a good sign for the health of the game. People talking and buying and looking like they are into it again after a few years of decreased interest, and rounds, was great to see.
Another thing we do in the Northeast during winter is watch a lot of golf on television. The European Tour, The Web.com Tour, the PGA Tour, Champions Tour, anything that will get us even more juiced up to get outside again and revel in the sunshine and green fairways. Tiger is back and that's good. Phil is Phil. Sergio is grouchy again. And Dustin Johnson looks like he's ready to contend for a major. The Masters is just around the corner and I had a chance to chat with 2012 U.S. Amateur winner Steven Fox of Tenneessee, who is jacked up just to be playing in the event that truly heralds in Spring and the start of a new golf year. So, c'mon, let's get some warm weather up North so we can get to it.