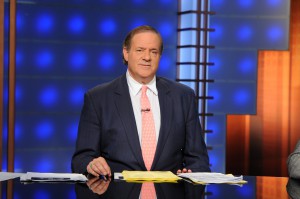 Over the past three decades, ESPN's Chris Berman has become one of America's most respected, popular, and in some ways, most beloved sportscasters of his era. Six times the Connecticut resident has been selected the National Sportscaster of the Year (1989, 1990, 1993, 1994, 1996 and 2001) by the members of the National Sportscasters and Sportswriters Association.  Berman, who in 1989 became the first cable sportscaster to win the award, ranks second among sportscasters in winning this award from the NSSA.  Berman and his various shows have won 10 Emmy Awards and 12 CableACEs. Since 1986, Berman has covered the U.S. Open, including the "NFL PrimeTime of Golf," the nightly U.S. Open highlights show, in some form for 28 years. In 2003, he added play-by-play duties for ESPN's coverage of the first and second rounds of the U.S. Open to his host role. I chatted with him prior to his broadcast of the 2014 U.S. Open and the start of the Travelers Championship in Cromwell, Ct.
How long have you been playing golf?
Berman: Since our kids were in grade school, other than dabbling a little in my 20's. So, for the last 22 to 25 years, if you want to call it playing golf, what with a 16 handicap.
Where did you first start to play the game?
Berman: At driving ranges in Westchester County in high school. We got a dime if we hit the little cart picking up the balls. As far as playing golf, that pretty much was it. I never really played when I was young, and it shows. But that was okay, I made some dimes back then, rattling the little metal truck that was picking up the balls.
How often do you get to play?
Berman: If I'm out on vacation, two or three times a week. If it's here in Connecticut, certainly, with the spring we had, not too much. Maybe I play once or twice a week if I can until football starts and then all bets are off.
What do you like most about the game?
Berman: I like that you're your own boss, as scary as that might seem. I like the mental part of it, even though this is coming from a guy who's not a single-digit player, You're almost always in a beautiful place, and that doesn't always have to be a resort, it can be a course right here in Connecticut or New England. I've never had a hole-in-one and I'm not expecting one either. But you could have a couple of eagles from the fairway, you don't see those coming. Whatever level of golfer you are, it's always possible that it is going to be one of the most memorable days you've ever had playing golf.  
What are some of your favorite courses in Connecticut (New England)?
Berman: I'm a member of two clubs in Connecticut. The TPC at River Highlands is a good, fair, interesting course on a lot of different levels. And I'm a member of The Farms Country Club in Wallingford, where a lot of my friends belong.  I try to play those 10 or 12 times a year  April to November.      
What is your favorite moment on a course?
Berman: The first year I was invited as a participant at the AT&T at the Pebble Beach Pro-Am, February of 2005. I played with Jeff Sluman as my pro partner, who always played well at Pebble and he did that week. We were paired with Bill Murray and Scott Simpson, who's won a U.S. Open, so there were a lot of eyeballs on us and I really wasn't ready for it. But, on the Saturday, on a beautiful day, sunny and in the 60's, there were 8,000 to 10,000 people waiting for Bill Murray. I birdied 18 in front of all those people, which was an eagle since I get a stroke a hole, and we made the cut as an amateur team. I got a huge roar, and I knew right then I'd just done it. I won't have a moment like that again.    
Talk a little about the Travelers Championship. You are involved deeply with it. How important do you view the tournament in regards to the state and its golf fans?
Berman: This is Connecticut being big time. Obviously we currently have the national champions in basketball for men and women, we have a very nice tennis tournament down in New Haven. We did have the NHL here for years, the Hartford Whalers. But, this is Connecticut stepping into the big time late June every year for more than 60 years now. I'm just very proud of what that tournament has always meant to our state because long before the majority of the proceeds went to charity in all of those other tournaments, this did. It's a wonderful event. Every year they make it better. Every year it's us on the big stage and we give back to the community. I'm thrilled to do my small part. And it's a nice way to kick off the summer.      
Do you get out to the tournament quite a bit?
Berman: I try to get there every day. We do a big event on Tuesday night with The Travelers for a lot of the sponsors and with the pros. On Wednesday I always play in the pro-am, and have for over 20 years. I played for 12, 13 years with Joey Sindelar, I played quite a few times with J.J. Henry, Connecticut's own. Last year and I believe this year will be true as well I played with a guy I've known a long time, Brad Faxon, who's been invited back even though he's on the Champions Tour. I've known him since we were young fellows in our 20's or 30's. I always used to go to the tournament with my dad because the crowds were easy to negotiate on Thursday. He passed away in September but it was something he and I always enjoyed. I'm a fan. I walk around like anyone else. The Travelers asks me to help with the 18th hole ceremony after the tournament's over when they award the check and the trophy. I like to be up there all week long because it's fun to watch. You get inspired.          
What are your fondest memories of the tournament, even dating back to when it was played at Wethersfield?
Berman: When the course opened in '84 at the TPC, the parade of winners we had then on the new course, guys like Lanny Wadkins, Nick Price, Greg Norman, David Frost – guys who were winning were really good players, made me know we had our course right. Our 50th year was in 2002 and we as had many past champions back as possible. I looked down and sitting in the assemblage at the 18th green that included Sam Snead, Billy Casper, Arnold Palmer and Lee Trevino and to see those greats, as well as Charlie Sifford, the first black player who won on the PGA Tour, and Nick Price, Greg Norman, Phil Mickelson, and Paul Azinger, I could go on. That was an unbelievable day. But to see Snead, Palmer, Trevino and Casper as winners of our event come back in 2002, that remains my favorite moment. 
What do you think the game needs to grow?
Berman: I'm privy to a course in Florida that I play with my wife, Kathy. It's a par-three course but not the old pitch and putts that played as kids. This is a real course. If you play the blue tees, one hole is 205, another 180, and one 170, and then there's other shots that are 100 or over water or whatever. My point is, we go out and play nine holes, it's real golf, and your nine holes are over in an hour and 20 minutes. I'm not saying these courses are for everybody. But to make nine holes, however you do it, acceptable, either a special course, or to let everyone know you don't have to play 18 and then go home, or have dinner, that's a real good day. You almost don't care about the score. It might get younger folks into it, and it might get older folks into it, if we make it known that nine holes is fine. It also doesn't cost you an arm and a leg. Make it fun and not nerve-wracking and overly expensive, and you'll have people from 10 to 90 playing.