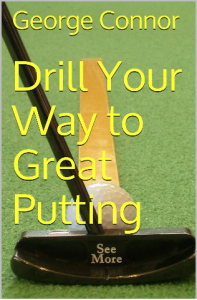 A lot of golf instructors talk about the mechanics of putting and work on the mind when trying to turn bad putters into good ones. But George Connor, a two-time Connecticut Section PGA Teacher of the Year, has produced a book, "Drill Your Way To Great Putting" (Amazon.com) on how to actually become a better putter by using numerous, and quite easy, fun drills.
I've known George for some time and refer to him as a "putting guru." He knows more about rolling the ball on the greens than anyone else I have encountered in my many years in the golf industry. I was honored when he asked me to help him with this book. What I like most about George's teaching is that he brings it down to ground level. By that I mean he makes learning the various aspects of the game easy to understand for the beginner to the most accomplished player looking for a tweak in his or her stroke.
When it comes to putting, George has all the tools. He's a certified Aimpoint instructor, an Advanced Certified SeeMore Putting Institute instructor, and an EyeLinegolf Certified instructor. George isn't one to preach technique endlessly. To him, becoming a better putter is spending the time, getting on the practice green and using drills to knock strokes off your score. And his book doesn't just throw a few drills at you, there is a plethora of ways George teaches you to become a better putter and he gives you the reasons behind the particular drills he espouses.
"I have always had a passion for helping people become better putters.  I see putting as an opportunity for anyone to become `great.' In all honesty, there are many people that play golf who will never drive the ball long distances, or have the strength and speed to hit towering iron shots that hit the green and stop. When it comes to putting anyone can become great and 95 percent of the people playing golf can reduce their scores and their frustration level by putting better. Taking this one step further; if you are a poor putter there will be limited rewards for improving in the other areas of the game. If you have virtually no chance of holing putts from five to 12 feet as an example, what is the benefit of hitting difficult bunker shots close or knocking a long iron to 10 feet for birdie?"
Connor says that as he became more and more involved in teaching people to putt better, he came to the realization that putting appears to be easy but at the same time mysterious. "It seems too easy to take a lesson about how to putt better and too mysterious to know what to do to improve. As a result, poor putters go through their golf careers, neglecting putting skills and living with the frustration and wasted shots that their weak skills cause. Nationally, only 6 percent of golf instruction centers on putting. When we consider that more than 40 percent of the strokes during an average round are taken with the putter, the math seems ludicrous."
In many ways, George says he has been writing the book for 20-plus years. "Over the course of teaching, I have used drills as a form of testing a skill, teaching a motion or having a player engrain a particular aspect. Once I started writing them all down in a central place, I realized I had a pretty large document. Now golfers have one place to look in order to develop extremely effective and fun practice routines."
Connor believes the key to any golf improvement plan is consistency.  "I tell all my students that we should approach learning or improving golf skills the way we should have approached school work. When I was in school, I would have had much more success and a stress-free, higher GPA if I had spent a regular dose of studying rather than pulling all night study marathons at the 11th hour. So, your putting practice plan should be made up of many short sessions as opposed to a few long sessions done sporadically."
He says that depending on the drills you are doing, within 20 to 30 minutes you can complete as many as five different drills listed in his book.  Other drills will take longer so you may only do one or two drills during a given session. He advises that you should keep putting sessions to 30 minutes or less. "Trying to practice continuously for an hour or more will lead to thoughtless, distracted practice, which will end up causing more harm than good. Set aside a bit of time four or five times per week. During the off-season, these sessions may be five to 10 minutes in your living room. During the season, you will want to lengthen the sessions, and the fun drills will make the sessions enjoyable as you improve."
Check out his book on Amazon.com. It's worth your time.http://www.amazon.com/dp/B00MK84F7Y