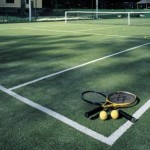 What a great time to be a tennis fan.
While other sports sputter for various economic and social reasons, tennis has been one of the few to experience a growth spurt during the past five years. Sales of tennis equipment is up as is participation and that bodes well for short and long term future of the game.
Listen, I'm a tennis nut. I'll watch the Tennis Channel for hours. I don't care if it a lower tier event from Malaysia or Wimbledon. I'm, into it. One of the reasons is that the sport translates well to television. The area of action is confined and defined, the ball easy to follow (except on the red clay on a sunny day) and the athletes superbly conditioned. Well, okay, there are a few women on the WTA Tour who obviously don't push themselves away from the buffet table quick enough or who think working out is something you do with a Wi game.
As an avid recreational player (between a 3.5 and a 4.0 at the club level), I can pick up a few tips by watching the pros, how they handle themselves in difficult situations, their footwork, shot selection and service styles.
Watching professional tennis in person is an awesome experience. A trip to the U.S. Open at Flushing Meadows, Queens is simply one of the best sporting days of the year. Get a grounds pass and you can wander from outside court to outside court and get up close and personal to the best players in the world. It's a carnival atmosphere enhanced by being in New York, with its high energy and unwillingness to let one minute go by without something happening. You can easily spend six or seven hours at the U.S. pen and never get tired or weary of the experience despite the crowds and expensive beer. How many sporting events can you say that about?
Think about it. We have two of the game's greatest ever, maybe the two best ever–Rafa Nadal and Roger Federer–playing at the highest level and contending in every Major. They have 25 Major titles between them and there is no reason not to believe that both will have between 16 to 18 when they decide to hang up their racquets, which won't be too soon judging from the way both talk about their love of the game and for competition. Now isn't that refreshing?
But beyond The Rafa and Roger Show there are a bevy of wonderful players on the men's side. The Joker, Novak Djokovic, now has two Australian championships under his belt and I figure him for one more Major this year. Andy Murray is poised to win a Major (if he can ever get his head straightened out in finals), David Ferrer is always a threat, 2009 U.S. Open champ Juan Martin del Potro is coming back from injury, Robin Soderling is always the conversation and guys like Andy Roddick are capable of a magical run to a final in a Major.
What's most impressive is the overall quality of the tennis being played in the modern game. Long rallies, amazing defense and well thought out points are now common, as the serve and volley game of big serve and fast-ending points is all but a thing of the past. That's because of changes in equipment and the incredible athleticism and fitness of the male players, who can run down any shot and crunch passing shots off even the hardest of ground strokes.
The women's side of the game is less impressive with the Williams sisters obviously on the downside of their careers, although Serena still is probably the best female player the world when she gets onto a court. And Venus is always dangerous because of her all-around game. But there have been way too many "number one" women's players, like Caroline Wozniacki, and Jelena Jankovic, Ana Ivanovic and Dinara Safina before her, who just don't seem to have the game or staying power to rule the sport like the Williams sisters and great (and fit) players like Martina Navratilova, Monica Seles, Martina Hingis and Justine Henin did before them. It is nice to see Kim Clijsters back and winning big again with her victory at the Australian Open. The women's game also needs a healthy and winning Maria Sharapova, the sports glamour girl with a game.
I'm not one of these guys who will tell you that they never watch women's tennis. Actually, the speed of the women's game and the way it is played, mostly from the baseline, is more in keeping with the style utilized by most men at the club level. So you can actually relate to and learn from the way the women play points and work the ball around seeking an advantage they can exploit.
It's the same as in golf. Guys can learn a lot from watching the female pros. They hit the ball about as far (or farther) than good recreational male players but with butter smooth swings. And the women possess magical short games, which is where most good amateur male players struggle.
Tennis is healthy and thriving. The United States Tennis Association and other groups have done a good job promoting the game at the grassroots level and more and more kids are coming into the game. It's not expensive to play once you buy a racquet and some good shoes. There are plenty of public courts that cost nothing to get onto and most clubs have junior programs that encourage youngsters to play.
I'll be commenting on tennis regularly, so keep tuned and you might learn something, be inspired to play the game yourself, get ticked off at me or even turn the Tennis Channel on once in a while.