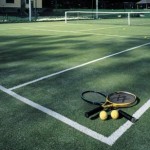 There have been a lot of Andy Roddick haters popping up lately but I'm not one of them.
OK, the guy can act like a jerk on the court at times and that fact that he's married to one of the most beautiful women in the world, Sports Illustrated swim wear model and actress Brooklyn Decker, can make any guy jealous. But let's face it, A-Rod has been the top American player on the pro circuit for the past decade and I don't see that changing anytime soon.
What Roddick is most known for is his booming serve, which still reaches NASCAR speeds when he cranks it up. He's also known for his failures in the Majors. He's got that one big title, the 2003 U.S. Open, but so much more was expected of him. He has reached the finals of four other Majors (three times at Wimbledon) and lost to, guess who, Roger Federer, all four times. Of course, losing to Fed is nothing to be ashamed about, but the sting of dropping that magical five-setter two years ago at Wimbledon was crushing blow. It seemed to send Roddick reeling for a year, during which he also suffered some nagging injuries that he now seems cured of.
Check out Roddick's numbers. The guy has won 30 singles titles and has been ranked number one in the world, that coming in Nov. of 2003. He is currently eighth and has turned in a decade of excellence that few players have matched in their careers. At 28 he remains a threat in every Major.
He's had some nice results already in 2011, getting to the fourth  round at the Australian Open, where he was ousted by Stanislaw Wawrinka, reaching the finals of the Brisbane International, where he lost to top seed Robin Soderling in a good match, and winning the ATP Regions Morgan Keegan Championships, where he beat Janko Tipsarevic, Lleyton Hewitt, Juan Martin del Potro and then the young big-hitting Canadian sensation Milos Raonic in a gutty three-setter that included two wonderful tiebreakers.
Roddick has tried to create a better all-court game with mixed results. Once content to stand at the baseline and try to outhit his opponents, the Texas native now will mix it up with chip and charges to the net in an attempt to put a quick end to potentially long points that sometimes seem to wear him down as matches progress. His new attacking style adds another dimension to his overall game but he still struggles with his volleys at times and his rushes to the net are occasionally ill timed.
Roddick's strongest weapon remains his serve, which still is as good as it gets in the men's game. He is almost impossible to break when he's on and his return of serve has improved dramatically. His forehand remains a lethal weapon, especially on the cross-court shot, but his backhand is average and is more a way for him to remain in points and play defense when needed.
Despite all his wins and longevity, the thing that impresses me the most about Roddick is his commitment to play Davis Cup for his country. In an era where money matters more than anything to most players, Roddick has given the U.S. his time and energy on numerous occasions and has enjoyed immense success in the Cup. He has won over 30 matches and several times clinched ties for the U.S. with crucial wins.
He was in Chile with the U.S. team recently and played a vital role in the U.S. beating a pretty good Chilean team on its own turf, red clay, with a wild crowd of natives cheering their team on. He beat Nicolus Massu in his first match after John Isner gagged his first match away. After the Bryan brothers won their doubles match, Roddick finished off the win by beating Paul Capdeville in four grinding sets.
Roddick improved to 33-11 in Davis Cup and is now a remarkable 12-0 in matches that clinched a vicory for the United States.
Next up, Spain. We don't know if Rafa is going to play but wouldn't that be something? A-Rod and Rafa going head to head in the U.S. in the quarterfinals.
So give Andy Roddick the credit he deserves. He's the best the U.S. has and that likely won't change for some time.