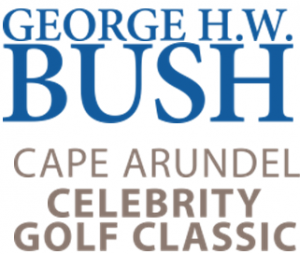 George Prescott Bush, grandson of the 41st President, will serve as Honorary Chair of the 2014 George H.W. Bush Celebrity Golf Classic in Kennebunkport, Maine, June 24. The 12th annual fundraising tournament, accessible to the public, is held at Cape Arundel Golf Club near former President Bush's Walker's Point home. The proceeds of the event benefit Gary's House, a 'home away from home' for families to gather when they have a loved one in a medical crisis at any Portland-area hospital. Gary's House is a program of Mercy Hospital. Named after Gary Pike, the home is a tribute to this young man's final wish before succumbing to cancer at just 21 years old.
"George P," as he is known, son of former Florida Governor Jeb Bush, is an attorney who served in Afghanistan with the U.S Navy and is currently running for office as the Land Commissioner of Texas.  Bush's involvement marks the fourth generation of family participation at Cape Arundel G.C and in support of the charitable nature of golf.  Bush's great-great uncle, George "Herbie" Walker, and his great-grandfather, Senator Prescott Bush both served terms as USGA presidents; his grandfather, President George H.W. Bush, and his uncle, President George W. Bush, have both volunteered as Honorary Chairs of The First Tee junior golf program.
"Those of us who share an enthusiasm and appreciation for the game of golf recognize that it is truly unique in the sporting world. It is, in many ways, a lesson in life," said President George H.W. Bush. "It is a game of integrity and good sportsmanship."
George P. will lead sports greats, TV personalities, and golfers from around the country who come to Kennebunkport to support George H.W. Bush and his charitable involvement, which has raised more than $1.6 million since its' inception a dozen years ago. Past participants have included CBS Sportscaster Jim Nantz, New England Patriots greats Tom Brady, Steve Grogan and Joe Andruzzi; Celtics Hall of Fame player Dave Cowens and Bruins legends Derek Sanderson and Ray Bourque.  Reality TV stars Travis Arket and Darren Dyer from The Deadliest Catch and "Survivor" winner Bob Crowley from the CBS hit show.
The evening before the golf tournament, the Point of Light gala is held at the historic oceanfront Colony Hotel. Authentic historical items, including the 41st President's briefcase, have been auctioned at the event.  Annually, a distinguished volunteer who has made an impact on Gary's House is presented with the "Point of Light" award, an honor originally created by the 41st President based on a term he used in his 1988 Presidential nomination speech.
Those interested in participating in the George HW Bush Cape Arundel Celebrity Classic or attending the Point of Light Gala should call (207) 229-3866 or visit Gary's House Golf Registration.