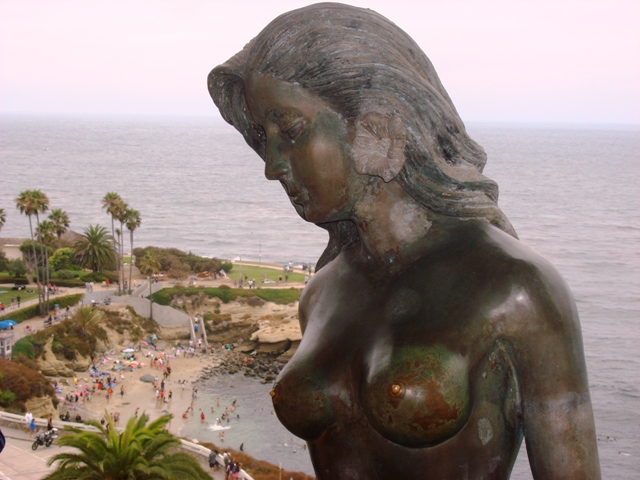 San Diego, known as "America's Finest City," might well also be known as America's most convenient city, too. A bayside airport which virtually loads passengers in downtown, plus trolleys, taxis and trams move convention-goers and vacationers easily to its' varied attractions, which are all very near each other. From the 40th floor of the Manchester Grand Hyatt Hotel, two impressive towers that dominate the skyline, you can see that San Diego is laid out like an amusement park. The large scale towers, containing 1, 625 sweeping-view guestrooms, including one and two bedroom suites, are linked by a 25,000 square-foot poll deck adjacent to Seaport Village, a collection of shops hugging one of San Diego Bay's many marinas. (www.ManchesterGrand.Hyatt.com)
The hotel, perfect for corporate events and near the San Diego Convention Center, casts its' grand shadow on San Diego's downtown historic Gaslamp Quarter, a series of city blocks alight with a diverse variety of colorful street-side dining, nightclubs, theaters, and entertainment. You can enjoy crispy mahi mahi tacos, or chicken tequila fettuccini, for instance, at Sammy's Woodfired Pizza, just across the street from Hooters and the Hard Rock Café, and around the corner from The Palm. (www.SammysPizza.com).
Old Town is the original San Diego settlement – now bursting with authentic Mexican restaurants and a historic park. The expansive Old Town Mexican Café anchors the fun fiesta with Mariachi bands and bueno burritos. (www.OldTownMexCafe.com).
Thousands of boats populate the bays – from sailing sloops to battleships. A harbor cruise gives you a close up look at submarines and sea lions as well as the USS Carl Vinson, the carrier from which Osama Bin Laden was buried at sea and on which the Michigan State Spartans will play a basketball game in November on Veteran's Day. (www.FlagshipSD.com) The USS Midway lets you climb aboard and explore the entire carrier and its' aircraft. (www.Midway.org).
Just beyond Sea World and the museums of fanciful Balboa Park, including the famed San Diego Zoo, is the funky promenade of Pacific Beach. Tower 23 is low-rise luxury – a dreamy glassy and white beachfront hotel. It's California contemporary and crisp with a sophisticated indoor/outdoor bar. Guest rooms sport names like "Spirit Sanctuary" and "Surf Pad," and "Sweet Suite," all with private balconies and ocean views. The uniform blue carpet and crisp white walls make you feel as if you're aboard a snazzy yacht. (www.Tower23Hotel.com).
La Jolla's Cove, just 10 miles from downtown, is an oceanfront park and small beach blended in with the sandstone cliffs and caves along the Pacific. Swimmers, snorkelers and divers in this extraordinarily beautiful stretch share the Undersea Park and Ecological Reserve with sea lions and kayakers while landlubbers enjoy the tide pools created by the smashing surf. Gourmet restaurants and upscale shopping line the bluff above the grassy nirvana.
In mid-July, while the Midwest sweltered, San Diego's high temperature was 72 degrees…and the low, 68 – the area's year-round temperate climate is the envy of the world.
For an overall view, visit www.SanDiego.org