A young blond woman made her way into the coach class cabin behind me aboard a Delta flight from Detroit to Salt Lake City. She was clutching the new book "Simply Rich – Life and Lessons from the Co-founder of Amway," written by 88-year-old Richard DeVos – the billionaire whose international business acumen and charitable leadership has had an immeasurable positive impact on Grand Rapids.
"Have you read much of that book yet?" I asked.
She opened the book a bit to show me she was about 100 pages in, and asked back, "Are you familiar with who the author is?"
I told her that I'd interviewed Richard and his son's Dick and Doug on my radio and television show and had talked about the book on the air that very morning. "They're all smooth cats," I said, "fun people."
"Richard is my grandfather," she revealed, trying not to smile. Her father Dick would have been proud of her poise.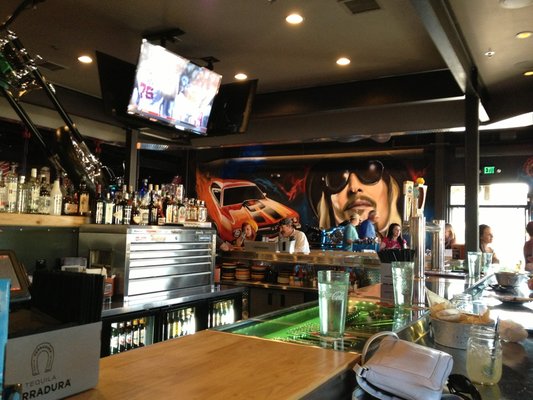 Sometimes leaving Michigan means taking some of it with you – or – encountering it on the road, since our diaspora takes the form of just more than homegrown autobiographies. For instance, upon arrival in Utah, I discovered, in Park City's Pinebrook Village the existence of the new "Billy Blanco's Motor City Mexican Burger and Taco Garage," and homage to Detroit created by restaurateur Bill White, who left Michigan 20 years ago. Populist Michigan rock star Kid Rock, depicted in a huge mural on the wall, would love the fact that a "shot and a shell" (whiskey and a beer) is only $7. He'd grin, too, if he was the Dodge Charger, Shelby GT, and Harley Davidson bike right in the restaurant.
We know people swoon at the sound of the "Pure Michigan" campaign, but Detroit? Suddenly fashionable? Is the bankrupt city really known as the "Paris of the Midwest," outside Michigan?  I have heard the adage: "You're always a bum in your hometown," but what if the "bum" in question is your hometown?
Like White, former University of Michigan football player Jeff "Smoke" Smokevitch has opened a themed restaurant in a ski town – Brown Dog Pizza in Telluride, Colorado – serving "Detroit-style pizza." I've heard of Chicago-style and New York-style pizza, so I asked Patrick Doyle, CEO of Michigan-based Domino's Pizza, when he visited Lansing, what Detroit-style pizza was? "I think they're talking about a square deep-dish," he said. "But since we got it all started I like to think we really are 'Detroit pizza.'" Indeed Domino's and Little Caesars, both industry pizza giants, opened their first single stores in about 1960 – both in the Detroit area. In a further irony, both Tom Monaghan, Domino's founder, and Mike Ilitch, who founded Little Caesar's, each took turns owning Major League Baseball's Detroit Tigers, a team that historically has been a fine ambassador for Detroit.
Michael Patrick Shiels may be contacted at InviteYourself@aol.com or via TravelTattler.com  His talk show can be heard weekday mornings in Lansing on 92.1 FM and Fox 47 TV.