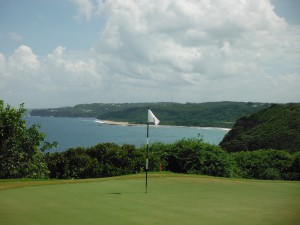 Any golfer's bucket list would include diverse, landmark golf courses scattered all around the golf world and, therefore, the planet. The peg would get put into the ground in New Zealand, at the Cape Kidnapper's Golf Club, which, like Pete Dye's Straits Course at Whistling Straits in Wisconsin, lies on land looming high above a scenic body of water, be it the Southern Ocean or Lake Michigan. You'd lace up your Softspikes at Royal Portrush Golf Club in Northern Ireland to challenge the seaside pot bunkers and change continents to get to TPC Sawgrass, where your watery challenge is the island green, par-three, 17th hole. You'd fly cross country to the Monterey Peninsula to play Spyglass and maybe hook a drive into Pebble Beach's Stillwater Cove and then bob down the coast to Torrey Pines on the Pacific near San Diego. If you could get into the very private Pine Valley Golf Club, you'd challenge the pine barrens and scrub of New Jersey, and then maybe trade those waste bunkers for some beach sand in Miami at Doral Resort and Spa's Blue Monster course.
Or, you could fly to Puerto Rico's Royal Isabela Golf Links, and get the sensation all of those courses bring…in one round. Make no mistake, Royal Isabela is not course of "replica holes" such as the type you'd find created in Myrtle Beach. Rather, the holes you'll find reminiscent of those acclaimed courses were naturally there, created by God, or the surf and winds of time or tectonic plates, if you prefer. Developers and sportsmen Charlie and Stanley Pasarell, with the help of the late Dye-disciple David Pfaff, simply "found the holes" on a pristine, remote stretch of land which looks no less pristine and remote after they built the golf course.
"David told us that if players can remember six holes after playing your golf course, you've got a good golf course," said Pasarell, who designed varying tees for three of the holes which, in effect, creates 21 unique holes. Pfaff also left behind drawings for additional golf courses to follow.
The Pasarell's also found inspiration in golf architect Tom Doak's book "Anatomy of a Golf Course," and did some serious footwork, too.
"My brother and I were fortunate to travel to many of those great golf courses," said Charlie Pasarell, a native Puerto Rican who has returned from California after a career as a world class tennis player and businessman, "but we didn't have to move giant amounts of dirt to make our course special. It really was there for us."
It's easy for travelers to find, too. Puerto Rico is a United States territory, which means a dollar is a dollar and none of those time-sucking entrance requirements like immigration or customs are needed for American travelers. (Neither is the ability to speak Spanish, by the way.) Good thing, too, since only a third of Americans even own a passport. Puerto Rico offers an international, Latin-flavored experience – and not just the mojitos – but without the "paperwork" hassle.
"What Puerto Rico needs most is hotel rooms. This island only has 5,000 rooms. Hawaii, for instance, has 130,000. Even the Dominican Republic has more rooms than Puerto Rico," Pasarell explained.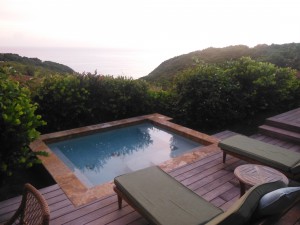 Royal Isabela's master plan for 2,000 remote, northwest coast acres of oceanfront development is changing Puerto Rico's landscape…without literally altering the landscape. Highly sensitive to the pristine, natural environment, the first phase, a 245-acre luxury club, its swimming pools, tennis courts, waterfalls, and seaside golf course are virtually hidden among the verdant palms, green hillside, and beachfront cliffs. 20 guest casitas are hidden away; surrounded by fauna with private sundecks, individual soaking pools, indoor/outdoor rain showers, and princely, perched beds, raised up above the main floor to allow sunrise views from 400 feet above the sea.
"We have found now that in the industry, the bathrooms are one of the most important features of hotel rooms," said Pasarell, who studied economics at UCLA.
A circular, open air "Croquet Bar" offers a 360-degree view which features the rising and setting sun, golf course, and the valley below La Casa, Royal Isabela's "farm to table" (thanks to an on-site, organic garden) dining experience. Executive Chef Jose Carles Fabregas, an accomplished golfer plucked by fate from the caddie ranks, studies quarterly in New York under James Beard Award-winner Dave Pasternack, a celebrity chef, and creates suitably special dishes such as chicken and sweet plantain pizza; organic vegetable tempura; Indonesian-style fried rice with Angus churrasco; and, the dish he says he would cook for God: Caribbean lobster with trifongo. "I like to keep it simple and fresh," says Chef Jose. "The lobster, olive oil, garlic and pepper are all you need. It's cooking the lobster in our wood-fired, stone oven, instead of on the grill, that makes the meat so flavorful and succulent." Five local fishermen supply each day's catch.
You won't find a gift shop and you won't find a designer coffeehouse or a business center or a bustling lobby. Instead, you'll find quiet, peace, nature, and visionary brothers Charlie and Stanley Pasarell, who spend most of their time on-property at their luxurious creation mingling with guests to make them feel at home in the stylish setting. "The architecture's not Tuscan. It's not Puerto Rican. It's not Italian or Caribbean style," insists Charlie Pasarell. "We wanted to create our own brand: a little of this and a little of that. It's Royal Isabela-style."
For more information, visit www.RoyalIsabela.com or call (787) 609-5888
Michigan-based travel writer Michael Patrick Shiels may be contacted at InviteYourself@aol.com or via www.TravelTattler.com His morning show is heard weekday mornings in Lansing on 92.1 FM.