Time travel? Some hotels and resorts are now trying to ensure you feel good about your visit…before you arrive!
"We want to create a positive image in our guest's minds so they're talking about us fondly before they even pack to come here," says Brian Soma, the director of sales and marketing for J.W. Marriott Ihilani Resort and Spa, in the Ko Olina resort area outside Honolulu. For instance, the website for the 387-room, full-service, beachfront, luxury property includes a click-on for "Ihilani Marketplace," at which guests can direct the hotel to customize their guest suite to be ready upon arrival.
"It's a convenience so our vacationers can begin the fun immediately or our busy corporate guests can get right down to business and then maximize their relaxation time.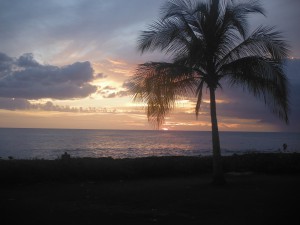 If they like diet soda, for instance, we can have it waiting for them in their in-room refrigerator. They can pre-order a certain type of wine. There are plenty of choices on the 'Ihilani Marketplace,'" says Soma. And don't expect the typical, gauging of the overpriced mini-bar of some resorts at Ihilani, according to Soma, who says, despite Ihilani being an upscale resort, six-packs of diet soda can be ordered for as little as $6.00; and bottles of wine as low as $15.00. And once on-property, don't miss the $6 Mai Tai's during "happy hour" from 9-midnight overlooking the pool. In terms of value, pre-arrange "SpeediShuttle," which can get you from Honolulu Airport to Ko Olina for only $15. "A speedy check-in process upon arrival is vital, too," adds Soma. "Guests walk in with their luggage on wheels and are ready to roll to their rooms."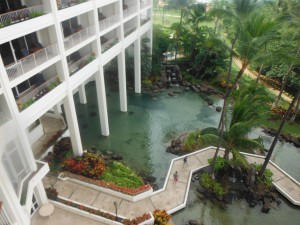 With a beach showcasing blazing ocean sunsets, Ko Olina hosts 6,000 weddings a year, according to Tim Deegan, Ko Olina's director of marketing, and newlyweds have the gorgeous keepsake photos to prove it. The Ihilani online marketplace recognizes that by offering romantic gifts for newlyweds and honeymooners. "You can even pre-order a surprise of rose petals on the bed to spell out 'I Love You,'" says Soma. You can also reserve, or send the gift of a round at the adjacent Ko Olina Golf Club, which hosts an LPGA tournament; a traditional Hawaiian Lomi Lomi massage and Thalasso sea water treatment in the spa; or a meal in one of five restaurants, including Azul, the dazzlingly delicious Italian, open-air restaurant perched above Ihilani's grotto filled with Hammerhead and Galapagos sharks and Spotted Eagle Rays, which you can hand-feed in the water daily with the supervision of a marine biologist daily. (They won't get the gnocchi and Chianti you had, though.) You can also book a thrilling snorkel cruise from the resort's marina at OceanJoyCruises.com, which guarantees you'll see dolphins.
Ihilani, next door to Disney's Aulani Resort and the Marriott Vacation Club (in addition to other lodging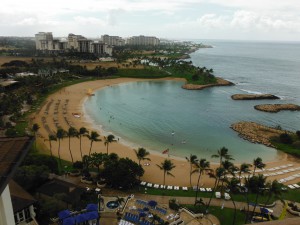 options) has hosted President Barack Obama and world leaders during the APEC Summit, and the NFL's best players call the elegant Ihilani home for a week during the annual Pro Bowl in January. See www.KoOlina.com or www.ihilani.com for more information.
Michigan-based travel writer Michael Patrick Shiels may be contacted at Inviteyourself@aol.com or via www.TravelTattler.com. His weekday morning radio show airs on 92.1 FM in Lansing.