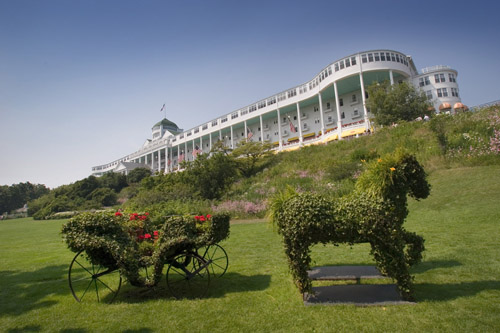 Imagine being trapped on a small island with virtually every "somebody" in the state of Michigan, and you've perfectly envisioned the Detroit Regional Chamber of Commerce annual Mackinac Policy Conference. The event, held Wednesday, May 27 through Saturday, May 30 at Mackinac Island's Grand Hotel, seriously alters the resort island's normal demographic makeup of fudge shoppers, boaters and tourists, which yield to public officials, CEO's, Members of Congress, lobbyists, celebrities, media personalities, public relations people, political operatives, and…our morning radio show heard on WJML and WJNL. We will broadcast live from the lower lobby of Grand Hotel.
Some of the scheduled speakers will be Governor Jennifer Granholm; T. Boone Pickens, the founder of BP Capital who received so much attention for tweaking U.S. energy policy during the Presidential election; Domino's Pizza CEO David Brandon; Delta and Northwest Airlines president Edward Bastain; and other business leaders, including Edsel B. Ford II, of "One D;" Oakland County Executive L. Brooks Patterson; Dan Loepp, the CEO of Blue Cross-Blue Shield of Michigan; and the Mayor of the City of Detroit, be he Ken Cockerel Jr. or Dave Bing.
Gubernatorial candidates Lt. Gov. John Cherry, Attorney General Mike Cox, State Senator Tom George, Congressman Pete Hoekstra, and Michigan Secretary of State Terri Lynn Land will debate. Michigan's Speaker of the House Andy Dillon and Senate Majority Leader Mike Bishop will also be on hand – both expected to seek higher offices.
Michigan's Congressional delegation in attendance will include US Senator Debbie Stabenow; and from the U.S. House of Representatives, Sander Levin, Gary Peters, Mark Schauer, and Bart Stupak. The conference will conclude with a tribute to Congressman John Dingle, the longest serving member in U.S. House history.
Unscripted speaking, or spinning if you will, that was goes on during high tea at the Grand Hotel and the countless cocktail receptions held all over the island. The conference is somewhat surreal in that everywhere you turn, no matter where on the island, you're likely to see a recognizable face.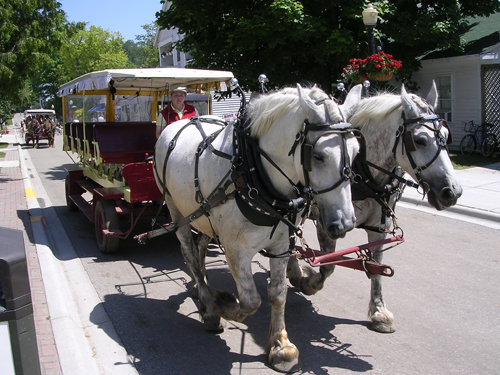 As always, Grand Hotel will be the star of the show, with many of the aforementioned glitterati posturing on the world's longest front porch overlooking the straits of Mackinac and the iconic bridge.
Grand Hotel opened last week and the landmark's president, Dan Musser III, was philosophical about his business plan in this year's down economy when I spoke with him on my morning radio show.
"People may have to sacrifice more than they usually do to take their traditional summer vacations this year, so we are going to be certain we give them exactly what they're expecting. The things we do right, we are going to do extra well," said Musser, who lives in Petoskey during the off season. "We've added a history weekend, and the annual events such as the Lilac Festival, Mother's Day weekend, Somewhere in Time weekend, and Jazz weekend are very popular."
Musser said the combination of the porch, meals in the dining room with the band, the history, beauty and romance of Grand Hotel make it a yearly vacation people cannot afford to miss!
April 28, 2009
"Mackinac Policy Conference"
Originally printed in the Talk of the North