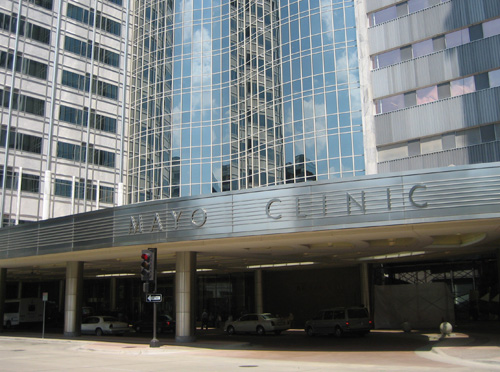 ROCHESTER, MN – The words "Mayo Clinic" cause most people to stiffen with dread. The presumption is that anyone seeking medical attention at Mayo is in dire condition. Certainly the Mayo Clinic, in Rochester, MN, is a last hope for many who need treatment. The acclaimed Mayo Clinic is actually an astonishing campus of gleaming, high-rise hospitals in the center of downtown Rochester connected by skywalks and underground tunnels. The tunnels house150 boutique shops, coffeehouses, hair salons, and restaurants.
"It's a medical Las Vegas," the cab driver reasoned during the 15-minute ride from the tiny Rochester airport in which he tried to capture the essence of the glamorous Mayo facility. The main lobby includes giant sculptures, high-priced Chihuly artwork, and soothing music tinkling from a grand piano. Recent medical tourists include George H.W. Bush and the King of Saudi Arabia, who reportedly brought his entourage and family members aboard his own 747 airliner and booked the entire top floor of the adjacent Kahler International Hotel.
Mayo is full of success stories – many of them celebrated directly across the street at the stately Kahler Hotel.
"There are plenty of happy, success stories of people who stay in The Kahler," says General Manager Bruce Fairchild. "We obviously delight in being a part of the good news and happy times. Some people will forever associate our hotel with those life-affirming moments."
In the classic WWII-era Hollywood film "Casablanca," Rick Blane is seen drinking fine French champagne in Paris with his trusted piano player "Sam" while the German army is closing in. Sam takes a sip of the bubbly and says, "Boss, this ought to take some of the sting out of being occupied!" The Kahler Grand, and its VIP International floor, takes the sting out of surgery.
Since many patients visit Mayo for outpatient examinations or for days of evaluation and testing before their procedures, a hotel room is an essential part of their stay. The Kahler, founded in 1921, is comprised of three hotels: The Kahler Grand, Kahler International and Kahler Inn and Suites, with over 1,000 guest rooms ranging from plush suites to value-priced, economy rooms under $100. With various levels of prices, The Kahler offers Mayo Clinic patients and family convenience and comfort, which, in possibly unpleasant medical circumstances, is priceless.
Essentially a "hotel within the hotel" – The Kahler International occupies the 10th and 11th floors and is a VIP haven with elaborate multiple bedroom suites, an attentive guest lounge, and the tools essential to conduct business in the midst of luxury: complimentary wireless internet and a printer/fax/photocopier in each suite. After all, with outpatient surgery and extended Mayo visits sometimes the norm, business must often still go on for the patients and their family members. A recreation center includes gym equipment and a rooftop, indoor pool, with a whirlpool and sauna.
The realities of the Kahler's location and its purpose are subtly present: a button on each guestroom telephone connects directly to a Mayo Clinic nurse, just as if one were calling room service. The restaurants offer homey, comfort food such as meatloaf and chicken pot pie; and have hot breakfast always ready for the famished once they've completed the 12-hour fast before the dawn blood tests.
The Kahler's Lord Essex Fine Dining restaurant is themed after a cozy, Old English Pub. Victoria's, around the corner and accessible via tunnel, is a bustling and comfortable Italian restaurant just across the street from Michael's Restaurant – an old-fashioned Rochester institution.
The famous and royal have stayed at the Kahler: President Ronald Reagan, King Hussein of Jordan, Johnny Carson, Bill Cosby, Joe DiMaggio, Billy Graham, and Louis Armstrong, to name a few. A few moments in the Kahler International concierge lounge will have you chatting up people who've made the trek to Mayo Clinic from all over the world.
For more information and a virtual, online tour, log on to www.Kahler.com or phone (800) 533-1655.
March 29, 2009
"Comfort in Crisis – A Luxury Link to the Mayo Clinic"
Originally printed in the Lansing State Journal