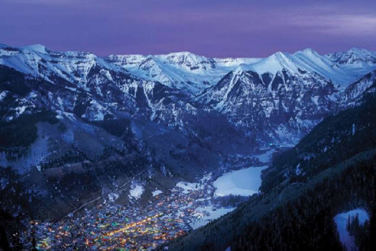 They sat shoulder to shoulder in the dark; snuggled into the plush, old-fashioned Nugget Theater on Colorado Avenue in Telluride. Because the single-screen cinema is so small, they could hear the sound of the whirring projector and hear the corn popping while they listened to Colin Firth try to get his character, Prince Albert, to overcome his stammer. Only two days before the Academy Awards, this tiny Western town was rooting for "The Kings Speech" since, after all, the film, with Firth in the flesh, premiered at the Telluride Film Festival months earlier in September. But the stir is subtle.
Forbes Magazine wrote it, and the locals have adopted the adage that "Aspen is unabashedly a place to see and be seen. But Telluride is the place where celebrities can kick back and blend in." Oprah, Ralph Lauren, Tom Cruise, Robert Redford, Jerry Seinfeld, and countless others have frequented restaurants such as Rustico in Telluride or bought homes in the mountain ski town just over an hours' drive from Montrose Airport, which is a 30-minute flight from Denver.
A mountain guide anonymously told me he'd given a snowmobile ride to Paula Abdul. "Sandra Bullock was in the seat you're sitting in just two days ago," a cab driver for Telluride Express told me. He picked her up in front of the historic New Sheridan Hotel, a Telluride Saloon Butch Cassidy and the Sundance Kid may have caroused in before robbing the San Miguel Valley Bank and high-tailing it across the spot where Annie Oakley and Wild Bill Hickok put on a wild west show and, years later, John Wayne would shoot the original "True Grit" film.
The most popular mode of transportation in Telluride is not by taxi or getaway horse, though. The old town lies below the mountain, so resort guests staying at the plush Madeline or Peaks Hotels take to the skies – via scenic gondola – to ride up to the 11,000-foot Mountain Village main ski and snowboard area. Lift lines for the chairlifts up from there are almost unheard of since Telluride is a low-density ski resort. Because of its' location, people on the slopes at Telluride tend to be locals or in-house resort guests, not day skiers passing through. The result is a clubby, adventurous kinship on the hill and in the après ski bars and restaurants. And since the main ski base begins at 11,000 feet, even the beginners are treated to sweeping scenic views of the valley far below – a rarity in mountain west skiing.
For a Michigan connection, visit Brown Dog Pizza on Colorado Avenue. The lively restaurant and bar is owned by former University of Michigan football player Jeff Smokevitch, who won the national championship playing for the Wolverines and is frequently present, along with his maize and blue memorabilia.
To plan your Telluride visit, log on to www.VisitTelluride.com or call (800) 525-3455.
Michael Patrick Shiels may be contacted at MPSbigshow@aol.com or via www.TravelTattler.com