Swinging monks and fresh caddies in Thailand
My conversation with the taxi driver from the Bangkok airport began with him describing his six years as a novice monk eating one Spartan meal a day in a jungle temple.  Then he noticed that my luggage included golf clubs and began chattering enthusiastically about how he'd recently broke 90 using his expensive new set of Callaway clubs.
Thanks to an economic boom during the 90s,Thailand boasts almost 200 courses. Just 45 minutes from bustling Bangkok you can enjoy the serenity of the Thai Country Club. Here at the entrance, as is common all over Thailand, you'll find a spirit house. Though Thailand is predominantly a Buddhist country, locals also believe in spirits who guard the property. To ensure harmony and prosperity, the spirits should be placated with offerings of incense, candles and flowers. I was tempted to light a candle and pray for a few pars on this manicured championship courses, formerly a rice paddy.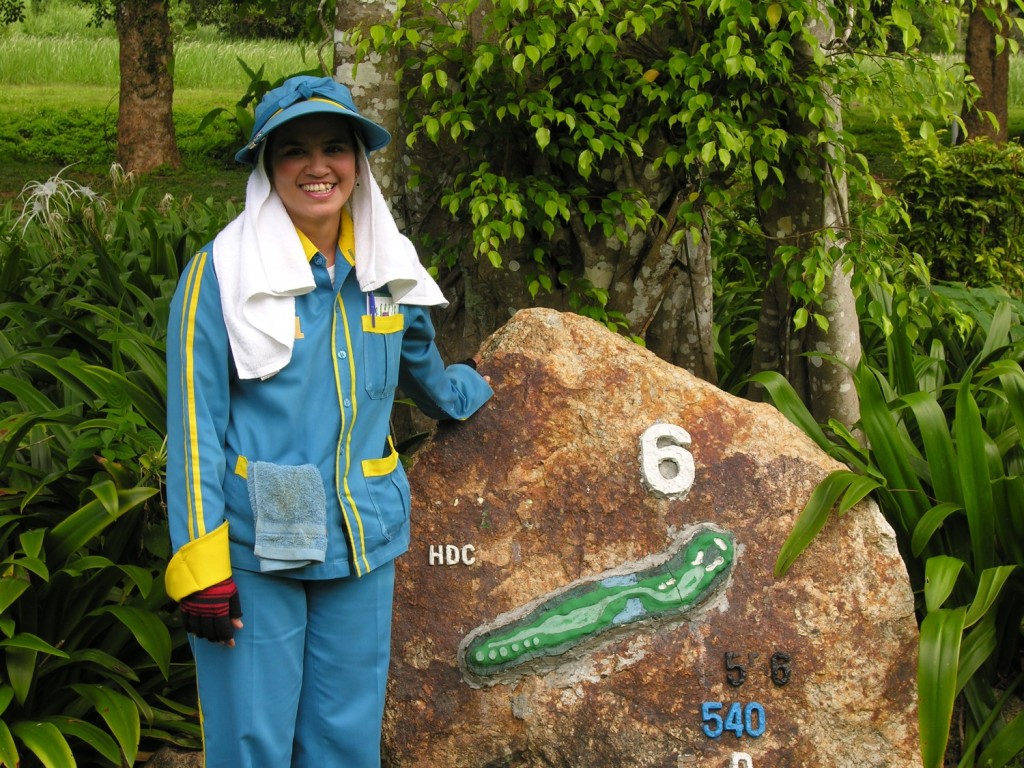 Caddies are an integral part of the Thai golf experience. Each course has its own team of tiny Thai ladies dressed in pajamas and kerchiefs in club colours. If you're a high roller, you can hire three—one to select and clean your clubs, one to carry a parasol and stool and one to light your cigarettes and give shoulder massages.
One caddie is really all you need. Mine's name was Kid. Soaking wet she probably weighed about 47 pounds. I pinned a Canadian flag on her lapel and she gave me a big hug. After a few holes she asked my age. Fifty, I lied, then hit a career drive. Kid clapped.
"You very old but strong," she remarked. A few holes later, she pointed to my buddy Leah's spiky pixie hairdo and asked, "Your hair made in Canada?" At the end of our round, she patted my butt and exclaimed, "Very healthy, madam."
Kid was not only entertaining but an excellent caddie. When I asked for a three-wood, she handed me a seven-wood, explaining "three-wood goes to Canada." And once I figured out that "a little light" on the putting green meant a little right (many Thais have difficulty pronouncing "r") my score improved.
Not speaking another's language, except for a few words, can sometimes be the most direct and honest way of expressing ones self—like it or not. By the end of the round, Kid had remarked that I was old with a fat butt. For this I tipped her about $8 and headed to the clubhouse for a Thai massage.
Here's my Thai Golf Hit List
Royal Chaing Mai, near Chaing Mai
Set in a lush valley and surrounded by mountains the scenery is magnificent with waterfalls, streams and looming temples. From the clubhouse, the vista of emerald fairways dotted with yellow-clad caddies carrying bright parasols is like a scene from Madame Butterfly.
Blue Canyon Country Club, minutes from the Phuket airport
Playing a round of golf here means following in the footsteps of such legends as Tiger Woods and Nick Faldo as many of Asia's top tournaments have been hosted on this lush course by Japanese designer Yoshikazu Kato.
Royal Hua Hin, on Thailand's southwest coastline
Kings and queens have summered in the Royal Palace here since it was completed in 1928 by King Rama VII who named it Klai Kangwol, meaning far from worries. Thailand's first golf course, the Royal Hua Hin opened in 1924. Players are rewarded with majestic views of the Gulf of Thailand and on the par-three 18th hole an exquisite temple looms in the background.
Laem Chabang International Country Club, Pattaya
The challenging 27-hole course, designed by Jack Nicklaus, takes you through mountains, lakes and valleys. With phallic rock sculptures, fragrant gardenias and beautiful plantings, it feels like a stroll through a Japanese botanical garden.
Santiburi Samui Country Club, Koh Samui
Each unique fairway on this steep par-72 roller coaster, cut into a coconut jungle, provides plenty of challenge yet seems to blend harmoniously with the lush surroundings.