Spa treatments are good enough to eat at Casa de Campo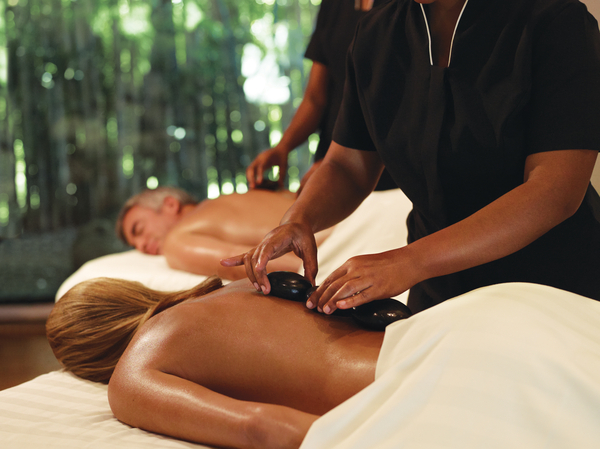 When the Dominicans say "it's a pleasure" it sounds to my ear like "eat's a playsure." We spoiled guests hear this many times per day here at Casa de Campo and the line is always delivered with a genuine smile.
Order a drink, request a wake-up call, thank your masseuse and you'll inevitably be told, "eat's a playsure." I've come to love those three words because the folks here a Casa de Campo take real pride in making guests feel happy and special. It's not a vibe I get very often in my hometown of Toronto.
Today I spent an indulgent afternoon at the Spa. My masseuse Celeste greeted me in the reception area where I'd chilled out with chamomile tea and a view through the glass wall of a zen-like bamboo and rock garden. She led me through a secret Mediation Garden and into the Water Sanctuary where I had 30 minutes to use the steam, sauna and hot and cold plunge pools before my Golf Massage.
After about two minutes into a massage I usually know if my masseuse has the magic touch or if he/she is just going through the motions. Celeste most definitely was blessed with a heavenly touch. She used her own talented hands plus a couple of golf balls (Noodle brand) to stretch and relax my prime golf muscles, namely back, shoulders, hips and legs.
Next came a unique spa experience. The Casa de Campo Spa offers signature body exfoliations and wraps using your choice of fruits, herbs and essential oils. From neck to toes I was exfoliated with a mixture of coarsely ground Dominican coffee mixed with coconut oil. I showered off that aromatic blend and then enjoyed a hydrating massage with a "lotion" made from aloe from the Meditation Garden, plus my choice of fresh fruits and herbs. I selected avocado (rich in vitamins A, B and iron), passion fruit (good for skin elasticity), mango (hydrating) and apple (helps with sunburn), ylang ylang (for its anti-aging nutrients). The fruit salad was whipped up in a kitchen blender. After 36 holes of golf under the strong morning sun, my parched skin was now hydrated and silky.
Pillar Rosario, manager of the Casa de Campo Spa, told me her goal is to take Spa guests on a journey to the extraordinary. Mission accomplished and "eat's been a playsure."