My last word on the PGA Championship's bizarre finale: There's a lot of blame to go around, but the biggest share belongs to Dustin Johnson's caddie, Bobby Brown.
More than likely, the PGA should have decided ahead of time that if it was going to place bunkers outside the ropes and let spectators stand in them, those bunkers should have been defined as waste areas. But the PGA didn't. At least it went to some lengths to notify all concerned that every one of Whistling Straits' 967 bunkers would be deemed a hazard.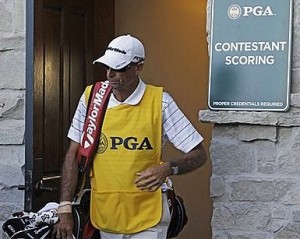 The golfer himself is hardly blameless. Johnson has said that he didn't think the place where his tee shot came to rest, far to the right of the 18th fairway, was a hazard. I suspect Johnson would be more precise to say that he didn't think, period.   
But that's not surprising, given the situation. Johnson was probably so hot to get the ball on the green, win the championship and redeem himself for his disastrous fourth round at the U.S. Open that it's a wonder his head didn't burst into flames.
This is why professional golfers employ professional caddies. The caddie is supposed to have a cool head at all times. The caddie is supposed to protect his player against just the sort of mistake Johnson made. The caddie traditionally gets 10 percent of a winner's check, which in this case would have been well over $100,000. For that kind of money, he needs to do what he's supposed to do.
I know Brown had a lot of other things to worry about at that moment. What were the exact yardages? What was the right club ? But somewhere in the back of his mind, he should have remembered the warnings the PGA had issued about all bunkers on the course being hazards.
 He didn't. History will record that Johnson brought a two-stroke penalty upon himself for grounding his club. Bobby Brown will be grateful that history will not remember him.