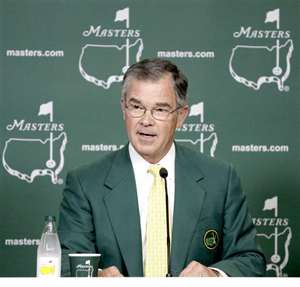 With all the millions of words of pre-Masters coverage that will be written this week, you're likely to read a lot about Tiger Woods, Rory McIlroy, Bobby Jones, azaleas, and the cathedral in the pines. You're not likely very often to come across this link:
http://anthonypioppi.com/golf/blog/474/ngf-says-1575-courses-closed-in-011-19-opened
It's a recent report by my friend and TheAPosition.com colleague Tony Pioppi, putting some numbers on the decline of golf in America. Last year, 157.5 American golf courses closed and 19 opened. Since 2006, there has been a net reduction of 358.5 courses countrywide. (A 9-hole course is counted as half a course.)
What does that have to do with the Masters? In my opinion, it's this: By stubbornly clinging to their no-girls-allowed membership policy, the members of Augusta National have become one of the reasons for the statistics in Tony's post. In short, they're part of golf's problem, not part of the solution.
I don't for a minute dispute Augusta's contention that Americans have a right to private associations of their choosing. I understand that. I know that women and members of racial minorities form and join clubs to which men or members of other racial groups are not invited. And I know that goes for golf clubs, too. I have enjoyed playing as a guest at a couple of male-only clubs, Pine Valley and Burning Tree. While I would not personally want to join a club that bars anybody on the basis of gender (not that either Pine Valley or Burning Tree is about to invite me) I recognize their right to run their clubs as they see fit. But both Burning Tree and Pine Valley go out of their way to be truly private. They eschew publicity.
Augusta National, on the other hand, has arrrogated to itself a special role. It's a role the club took on willingly, when it started the Masters back in the 1930s. It's a role the club willingly keeps: the only venue that hosts a major championship each year. No other tournament attracts as much attention each year as the Masters does. Augusta National, for better or worse, is the face of the franchise in American golf.
As such, the club ought to recognize that it has special responsibilities. In some ways, it does. Players from countries just emerging into the golf world often receive special invitations, helping to grow interest abroad. Augusta could make a lot more money from the Masters than it does, but it opts to restrict the advertising minutes in each hour of the tournament telecast. And you won't see corporate hospitality tents at Augusta Nationa, either. The club seems to recognize an obligation to honor the game as more than a marketing opportunity for American commerce.
Sadly, however, that sense of a special responsibility to the game doesn't seem to extend to the club's own membership policies. Every year, Augusta broadcasts to the American public that golf, at its core, is a game of privileged males who don't want women in their ranks. The public hears this insulting message loudly and clearly.
The message from Augusta drowns out the message that the game tries to disseminate at other times of the year, through programs like the First Tee and Play Golf America. Golf wants to be seen as inclusive and welcoming. Golf recognizes that its health depends on attracting everyone. But, thanks to Augusta National, golf is like a politician who needs to attract Jewish votes, yet runs advertisements touting his endorsement by Mel Gibson.
I don't think it's a stretch to go from there to the statistics about closing golf courses. The National Golf  Foundation, an industry arm that compiled the numbers, suggested that the disappearing courses were mostly cheap public venues that won't be missed. But that's not the way it looks in my part of the counrty. Up the road from me, a daily fee course called Beechtree closed a few years ago because its owner decided he could make more money using the land for a housing development; Beechtree was a first-rate Tom Doak design. Every time I turn on a televised golf tournament, I see ads for private clubs that have fallen on hard times and are begging for new members, offering steep discounts, no initiation fees, etc.  I hear stories about other private clubs that have given up trying to attract members and sold themselves to public course operators.
I don't doubt that the sagging economy has a lot to do with this. But I also know that in a sagging economy, women who bring in half or more of the family income have a lot to say about how that income is spent. And I suspect many of them, having heard the message of Augusta National, are damned if they're going to spend anything on golf club memberships.
And it's not just women. Young men who are now in their 30s and 40s, the prime time for joining a golf club, grew up watching their mothers go to work just as their fathers did. Their first soccer teams had both boys and girls. To many of them, a  sport that denies memberships to women in its most prestigious club seems as fusty and appealing as a 1948 Studebaker.
Other pillars of the American golf establishment have moved, sometimes reluctantly, to honor the game's commitment to equal access and opportunity. The PGA Tour won't put one of its events at a discriminatory club. The United States Golf Association has, in the past twenty years, started awarding the U.S. Open to public and resort courses as well as private clubs. Only Augusta National clings stubbornly to policies that  besmirch the game.
This week, there has been still more scrutiny of Augusta's policies, because of a woman named Ginni Rometty. In January, she became the chief executive officer of IBM. IBM is a Masters sponsor, and its last few CEOs have been Augusta members. Augusta chairman Billy Payne might have defused the issue by gracefully introducing Ms. Rometty or some other woman as Augusta's first female member during his annual press conference on April 4. He didn't. He took the traditional, stubborn Augusta position that the club's membership is its own damn business and it won't be answering questions about it.
There's an outside chance that the club will wait till the tournament is over and quietly introduce women into its ranks in a way and at a time of its own choosing.
If it doesn't, the spotlight on Augusta's membership policy will grow still brighter.
Of course, that won't bother the men who call the shots at Augusta National. They'll still have their immaculate golf course. They'll still have an obsequious staff that discreetly fawns over them when they come to visit. They'll still have the tournament every golfer most wants to win. What they won't have is any true sense of responsbility for the health of the game they purport to love.