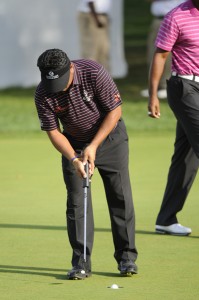 If you're like me, you need to have the latest-greatest in equipment. I spent Monday trying to resist the temptation to buy one of those "Fatso" grips that K.J. Choi uses for his putter. I'm fairly certain others succumbed.
Business had to be brisk at Tiger Shark in the wake of Choi's victory in the Players Championship. The company makes his oversized SuperStroke putting grip.
The grip looks like somebody got carried away with the tape. According to the site, it is 1.67 inches in diameter, helping to relax the hands while putting. It included this passage:
"The large surface area of SuperStroke brings more of the grip into contact with the hands, inhibiting breakdown of the wrists. Scientific tests have shown that the SuperStroke requires up to 32% less grip tension and represents a significant improvement over conventional putter grips. The Super Stroke's size encourages use of a "soft hands" technique and ensures a smooth and fluid putting stroke."
The site also says another player used the SuperStroke grip in posting a top 25 finish at the Players, although I'm not sure which one. All told, it says it has 89 professionals worldwide using the grip.
Choi, though, is the player who is putting SuperStroke on the map. The idea makes sense, although nothing is perfect. Choi missed some short putts Sunday.
Still, he made the final one to win his biggest title. Are you buying?