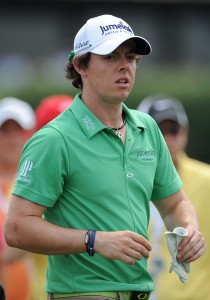 Since we're on this kick of comparing Rory McIlroy to Tiger Woods, we have to look at the bad along with the good.
I couldn't help but notice the similarities between McIlroy's follow-up to his U.S. Open victory compared to Woods' next major after his epic triumph in the 1997 Masters.
Woods entered the 1997 U.S. Open at Congressional with off-the-charts expectations. He didn't come close to matching them, finishing tied for 19th. After one of his rounds, the media got the first real taste of his temper. He blew right by the assembled scribblers. He received a sharp rebuke for his behavior. He was told the media wanted to talk to him regardless if he shot 61 or 81.
Fast forward to last week's British Open. McIlroy comes in with all the buzz following his great performance at Congressional. However, he didn't have an encore in him. He played miserably at Royal St. George's.
Unlike Woods, McIlroy did talk to the media after his final round. However, he make a big mistake with what he said.
He attributed his poor play not to himself, but to the weather. The native of Northern Ireland said he doesn't like traditional links golf. All things being the same, he'd rather play in heat and humidity. That's almost liking he prefers Corona with a twist to Guinness.
"My game is suited for basically any golf course and most conditions, but these conditions I just don't enjoy playing in. That's the bottom line. I'd rather play when it's 80 and sunny and not much wind.
"We play one links tournament a year so I'm not going to change for one tournament. I can win an Open. I just have to wait for a year when the weather's nice."
Naturally, that didn't go down well with the British press, considering the Open Championship is the biggest tournament in their eyes. McIlroy seemed to be writing himself off from ever winning if there is even a hint of wind.
The Guardian's Kevin Mitchell wrote: "McIlroy should realise that he is not bigger than golf, certainly not bigger than the history of the game, and that, whether he likes it or not, to be regarded as a true champion he will have to deal with the different conditions the game throws up."
Like Tiger, McIlroy will learn from this experience. He probably won't be as candid with his comments in the future.
It's all part of the education of young Rory McIlroy.