It's finally here: 2012, the year of the Ryder Cup in Chicago.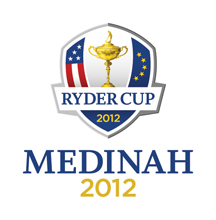 Been a long time coming. I first start writing about the possibility of Medinah landing a Ryder Cup in the late 1990s. Although I was much younger then, I have to say I'm in better shape and my game actually is showing some promise. So perhaps some things do get better with age.
It will be a big year not only for golf in Chicago, but also throughput the United States and Europe in anticipation of the Ryder Cup at Medinah in late September. The Euros look to be loaded, while the U.S. squad will have all sorts of intriguing possibilities. Obvious question: Will Tiger Woods make the team?
I'm going to use this space to begin my countdown for the Ryder Cup. I'll have updates and post stories related to the big event.
Let's start by focusing on the U.S. captain, Davis Love III. While Love is committed to playing a full schedule, he admits the Ryder Cup is very much on his mind.
In his first blog entry on pga.com, he writes:
It's early, I know, but I've looked at the Ryder Cup points list. Just to see how friends are making out. I probably won't pay real close attention until we get to the U.S. Open. That's when you really start paying attention. It's just too volatile right now. Once there are 2-3 locks, you keep a close eye on it. I'll get handed eight players on points and then I'll have to make those four picks. Come the British Open, I'll start watching players closely and also play practice rounds with them.
Again, I admit it. I like looking at the points list. I looked at it this morning. But, it really starts to get important after the U.S. Open.
All I know is that it's going to be a great year and, already, I can't wait for September.
In an interview with Golfweek, he talks about how he hopes when he's paired with a potential Ryder Cup player, they don't view it as a tryout.
"That would be my goal this year, to talk to (players). I don't want Sean O'Hair trying too hard, or trying to impress me, or worrying about that I'm watching. I'm going to have those conversations with players."
Love spoke to Golf World about his plan for assistant captains.
"We're thinking March (for naming assistant captains)," Love said at the Sony Open in Hawaii. "Jose Maria (Olazabal the European captain) is not real sure when he wants to do it, and we don't want to get too far ahead of him. Just trying to stay on the same page with him as much as I can."
We're on our way. Let the countdown begin.