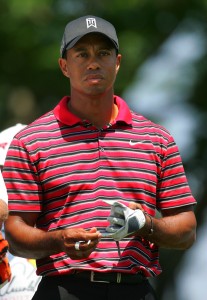 Well, I guess Tiger Woods' knee sprain wasn't "mild." That was the term Woods used when he pulled out of the Wells Fargo.
No biggie. Just a tweak.
Hardly. Woods only played 9 holes at the Players Championship before limping off. Since then, we've also learned his Achilles is bothering him.
It wasn't a surprise that Woods pulled out of next week's U.S. Open. At least he did it early in the week, allowing one of the alternates some preparation time for the tournament.
When will we see Woods again? I'm guessing the British Open. However, only if he is ready to play at the AT&T National in Philly, which begins June 30.
Woods' withdrawal sparked another round of talk that he may be finished. That we've seen the last of him at his best.
Yet every time I find myself going in that direction, I think of Steve Stricker. Stricker went through a period in which he made the cut in only 33 of 69 tournaments from 2003-2005. Things got so bad for him, he lost his Tour card prior to the 2006 season.
Stricker, though, bounced back and last week's victory at the Memorial was his sixth since 2007.
I keep thinking if Stricker can do it, so can Woods. Stricker doesn't have anywhere near the talent of Woods. Yet he climbed back to the top of golf.
Stricker, though, didn't have to face the injury obstacles that currently are weighing down Woods. Whether Woods can overcome his various ailments remains the big question of the day.
It looks bad for Woods now. But it's too early to say he's done. All he has to do is look to Stricker for inspiration.