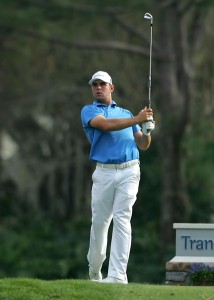 Birdie: Gary Woodland. It was a good day for Kansas. The Jayhawks beat my Illini in basketball (no surprise) and a former Jayhawk won for the first time on the PGA Tour. His par-saving putt on 18 said something about his ability to come through in the clutch. Coming on the heels of a playoff loss in the Bob Hope, Woodland is having quite a rookie season. And now he's going to the Masters.
Bogey. Webb Simpson. Hoowwwww sllllooowwww caaaannnn youuuuu playyyyyy? Simpson dulled a compelling finish with his deliberate approach. Still wondering when the PGA Tour will realize slow play is its biggest problem.
Bogey. Lack of star of power. Besides Woodland and Simpson, the top 10 also included Scott Stallings, Chris Couch, Mark Turnesa, Martin Laird, and the ever popular Brendon de Jonge, which sounds like a meal at a French restaurant. Did those names compel you to turn away from NCAA basketball? Probably not. Hopefully, there will be some more star power at Bay Hill this week.
Bogey. Justin Rose. The third-round leader wilted with a 74 Sunday to drop into a tie for 10th. Too bad. Rose has potential to be a big star.
Bogey. Sergio Garcia. Speaking of big stars, Garcia showed flashes during his first tournament on the PGA Tour this week. He opened with a 68 and 66. However, he dropped to tie for 15th with 72-71 over the weekend. Every time I watched him on Saturday, it seemed like he was missing a three-foot putt. Same old Sergio, right?
Bogey. Mark Wilson. After winning twice, Wilson has gone cold. He finished tied for 57th.
Birdie. Karrie Webb. The Aussie won the LPGA Founders Cup. She keeps chugging along. The victory was the 38th of her great career.
Bogey. LPGA Tour. While it was noble that all the prize money went to charity, it underscores the dire situation facing the LPGA Tour. The women need some help. After playing the next two weeks, including the Kraft Nabisco Championship, they are off until the last week in April. Hard to build much of a following that way.