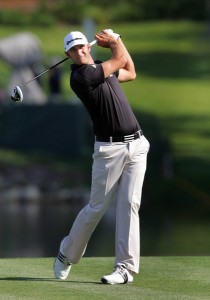 Enough about Tiger Woods and Steve Williams. Let's talk about somebody else.
I'm interested in Dustin Johnson this week at the PGA Championship. How is he going to bounce back after another disappointment in a major?
He's had some compelling ups and downs thus far. The 2010 U.S. Open at Pebble Beach when he imploded with a final round 82. There was the bunker controversy that knocked him out of a playoff at the PGA Championship at Whistling Straits.
Then Johnson had the disastrous 2-iron that did him in at the British Open at Royal St. George's.
That's quite a bit of major baggage in just over a year's worth of majors. Should we be checking for scar tissue?
The positive for Johnson is that he only is 27. It has to be a good thing that he keeps putting himself in contention. Logic says that he will win one of them, if not more.
Then again, you have to wonder if the past major disappointments will put more pressure on him when he comes down the stretch in a major. In order to walk away with the big trophy, you have to prove it on Sunday. Thus far, he hasn't been able to do it.
So let's see what he does this week in Atlanta. Will he get over the hump, or will he had another chapter to his major saga?