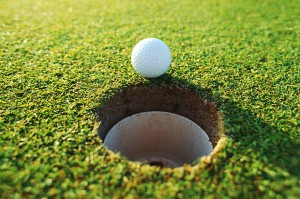 Putting techniques are very individual.  Decide on your best putting method and stick with it!
Here are five things that all  good putters do:
1.  They practice putting a lot! (QUALITY REPETITION)
2.  They have GOOD ALIGNMENT and EXCELENT DISTANCE CONTROL.
3.  In their "mind's eye", good putters VISUALLY see the ball track into the cup before every putt.
4.  They maintain a LIGHT GRIP PRESSURE throughout their entire stroke.
5.  They create a "PENDULEM" movement with NATURAL ACCELERATION for tempo.
Learn from good putters, but commit to your own personal style.  As the  saying goes, "Be yourself, everyone else is already taken."
Dodie Mazzuca is the Director of Instruction at Troon Country Club in Scottsdale, AZ (Oct-May).  She also teaches golf in Santa Cruz, CA (May-Oct).  To contact Dodie visit: www.DodieMazzuca.com