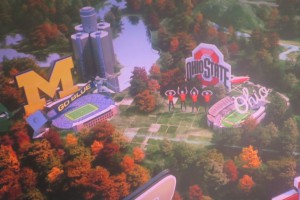 Credit where it's due: Since we never hesitate to point out the Big Ten's troubles, let's just say the league is having a banner bowl season.
And then, let's say it again: Kudoes to the Big Ten for having an outstanding bowl season.
Ohio State's 42-35 win over Alabama is a signature win for the ages, regardless of what happens in the title game vs. Oregon.
For years, I have said, "There's Saban and Urban—and everybody else,'' when it comes to college football coaching.
I would only amend that to, "There's Urban and Saban—and everybody else.''
All due respect to Jim Harbaugh, an outstanding hire. He's a Michigan man. He's fiery. And what he's done with San Diego, Stanford and the 49ers is brilliant. But he'll need to accomplish some things to join that twosome.
Do not be fooled by the Big Ten's modest 5-4 record in its first nine bowl games. The four losses (by Illinois, Minnesota, Maryland and Nebraska) are minor in comparison to the accomplishments.
That's especially true because all 10 Big Ten bowl teams were underdogs.
Not only did Ohio State drain the color from the Crimson Tide, who were banged up on defense and outsmarted on offense. Wisconsin atoned for its ridiculous 59-0 loss to the Buckeyes by beating Auburn 34-31 in overtime. That's a really good pair of wins over an elite SEC tandem that seemingly are perennial national championship contenders.
And Michigan State, down 41-21 in the fourth quarter, rallied for a 42-41 win over very accomplished Baylor, which handed TCU its only loss.
The only Big Ten blemish? Men's basketball, which looked like it might be on the verge of big things after cruising in the ACC/Big Ten Challenge, now looks wobby.
But that's a thought for another day. The Big Ten deserves time to bask in the way its football teams rang in the New Year.