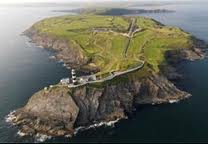 It's easy to see why Ballybunion is worthy of its status as the granddaddy of southwestern Irish golf. Lodged between the Atlantic and the town of Ballybunion, its fairways and greens are strategically placed between shaggy, fescue-laden mounds. A cemetery guards the right side of the first hole, and even a seemingly out-of-place trailer park that bumps up against some front-nine holes adds a peculiar charm.
Tralee, with a grand front nine that sits atop a seaside cliff, bringing to mind Hawaii or northern California, and a traditional Irish back nine demanding shots over valleys of fescue grass while the wind whips, is also a two-headed monster of a gem.
LaHinch, an amusing and bewildering layout in the mold of Ballybunion, also lives up to its reputation. It is a paradoxical delight that defends itself with blind shots, but still manages to provide majestic views of the course, the town of LaHinch and a beach that attracts wet-suit-clad surfers as well as swimmers.Waterville, which even has riding carts—or "buggies," as they are known in Ireland—is a big, splendid course that would be challenging enough to host a British Open if it was located in the Scottish heartland, rather than perched on the western edge of the Ring of Kerry. And the Dingle and Dooks golf clubs are hidden charmers that are perfectly laid out to take advantage of their windy, seaside locations.
The wind at the Dingle Club, the western-most course in Europe, is relentless. And the chowder is awesome. The Dooks Club doesn't merely have charming, whimsical holes. A warning sign that only "bonafide golfers'' are allowed is one of my favorites. It's right up there with a legendary first-tee sign at Waveland (now Marovitz), a nine-holer on the Chicago lakefront, that said: "Don't try to kill the ball.''
But if there is one course in the southwestern Ireland rota that is sure to leave jaws gaping, it is Old Head. Spectacular and mystical, Old Head, which opened in 1997, is a relative newcomer. That is evident in its modern-style fairways and bunkers. But its combination of up-to-date landscaping and strategic challenges amid a working lighthouse, plus ruins of long-dormant lighthouses plus remnants of stone fences and other ancient artifacts of long-gone civilization, translates into an experience that is breath-taking at the moment and unforgettable in the memory.
Set on an isolated peninsula near the quaint fishing village of Kinsale, which has reinvented itself as a gourmet tourist attraction, Old Head will never host a major tournament. Still, it is a popular stop among American pros including Tiger Woods when they are preparing for the British Open. And it , is already gaining initial momentum in its bid to become known as one of the world's top 10 courses.
"For a young course, we've been fortunate to have had a lot of exposure," said Old Head general manager Jim O'Brien, appreciative of Old Head's growing reputation. "[The top 10] is very ambitious. But you always want to climb the ladder."
Located 11 miles north of the site of the sinking of the Luistania, which drew the United States closer to entry into World War I, Old Head has been described as similar to Pebble Beach, only more dramatic. Credit a peninsula that can accommodate a golf course, but nothing more.
Many of Old Head's holes bend around high cliffs. Perhaps the most daunting is No. 12, a dog-leg left par-five that requires a blind tee shot over the edge of the cliff to an unseen unfairway. Those who pull off that shot will find a narrow, but not overly-long downhill second shot toward a strip of green nestled along the cliff.
We were fortunate to experience Old Head under have sunny skies and a relatively mild day. Playing the course in all its blustery majesty would be another matter, no doubt.
We wouldn't hesitate to try, though. In fact, we would jump at the opportunity.