While it hasn't gotten as much attention as the drivers from the major companies with big marketing budgets, golfers with swing speeds under 100 like myself definitely shouldn't overlook PowerBilt's newest rendition of its popular Air Force One DFX driver.
What's different from other drivers on the market? Well, the clubhead, featuring a titanium body with a titanium cap face, is filled with compressed nitrogen, the same gas used in NASCAR tires.
This reportedly reinforces the face without adding weight.
DFX stands for Deep Face Extreme and once over the ball, you see the difference, a deeper clubface and larger sweetspot, which allows you to catch the ball slightly longer at impact.
I did notice more of a trampoline effect and slightly longer drives when I tested it side-by-side with my Adams driver on a wide open fairway at Waterview Golf Club in Rowlett. So the Air Force One DFX has now made by traveling squad.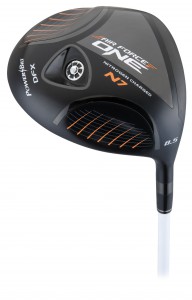 The Air Force One DFX drivers come in high MOI, Tour Series models in 8.5, 9.5, 10.5 and 12.5 lofts and sell for $299. The company does offer premium shafts for upgrades at higher prices.