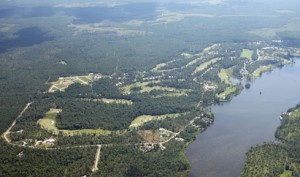 Small groups of golfers looking for the perfect place for a golfing getaway should definitely consider the Stewart Lodges on the eastern side of Mobile Bay, less than 30 minutes from Mobile, AL.
It has to be one of the South's hidden gems with its Jerry Pate-designed golf courses that is part of a 1,500-acre gated private Steelwood Country Club community.
Visiting golfers can enjoy the country club feeling if they take advantage of custom-designed packages at the Stewart Lodges, featuring two fully furnished lodges with 20 guest rooms (16 king and 4 with double beds) with expansive , screened-in porches offering golf and lake views. Each lodge has a fireplace; a surround stereo system and a big screen television with plenty of available movies; a recreational room; a walk-in bar; and a kitchen where Executive Chef Danny Spybey can provide custom-designed meals. Connecting the two lodges is a swimming pool, cabana and entertainment area
The course will not disappoint you as it has to be one of the best in Alabama as it meanders through a natural wetlands area with rolling terrain plus tall pines and dogwoods bordering the generous fairways before finishing with five holes next to the 200-acre Steelwood Lake. No two fairways are the same—six move right to left and six move left to right, thus not favoring a player who likes to draw the ball or one who favors a fade from the tee.
From the back tees at more than 7,000 yards, it can be challenging, but with four other tees, ranging from 5,102 to 6,456 yards, golfers should be able to find the correct one for their ability level.
The par 5 No. 4 can be stretched to 606 yards, testing even the long hitters to go for the green in two because of an almost 80-yard wide wetlands short of the green. The wise play is to lay up for a shorter approach to clear the trouble.
The par 4 No. 16 also requires golfers to hit an approach over a similar wetlands, but they need to be careful off the tee as there are two levels of the fairway where even a well hit shot could end up in the wetlands as it did for me. Leave your driver in your bag and play to the upper plateau. I'm sure some big hitters may go for the green, but I did not see any way for any such drive to not go over the green.
Golf isn't the only recreational activity as members and guests can also enjoy tennis, swimming, fishing, shooting clays and hunting quail.
The Stewart Lodges are also definitely an ideal location for exclusive corporate retreats and strategic planning meetings where business can be mixed with some relaxing moments close to nature.