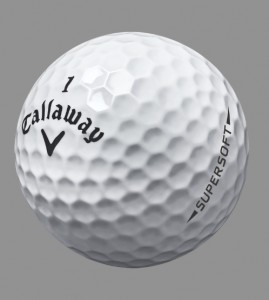 After playing 18 holes with Callaway's new SuperSoft golf ball, one of my pals likened the contact to kissing his wife, "smooth, soft and kind of sexy." Whether Keith was playfully creative or in dire need of scoring points at home, one of the lowest compression balls on the market made a distinctly positive on-course impression with several buddies.
Better still, the two-piece ball with a very low 38 compression, which ostensibly reduces spin for better accuracy and distance, is a certified bargain, retailing for only $19.99 a dozen.
Testing equipment during a round is often an iffy proposition, especially among inconsistent players with a 10-to-15 handicap index.  But while a ball is on the clubface for only .0004 of a second during a shot – – or about one-half a millisecond – – the feel and sound at impact makes is clear whether a ball is hard or soft.  Moreover, ball flight and yardage, especially on a course we've  played hundreds of times, does not lie.
As Keith added: "I found my drives soaring straight through the air to distances typically out of reach."
Moore's Law of Golf Balls
The moldy saw about computer power doubling every 18 months may well apply to golf balls. After Featheries gave way to Gutta-perchas and then Surlyn-covered spheres, balls didn't change often or radically; in the last half of the 20th century, one could use a durable hard-cover ball that traveled relatively far, or a soft Balata-covered ball favored by pros and low-handicappers, which felt like butter.  Compression, or how much the ball's shape is deflected at impact, was often measured on a scale of 80 to 100.
Over the last 15 years, the technology of balls is evolving almost as fast as cell phones.  Three, four and even five-piece balls now dominate the high end of the business. Some promise distance, others high spin, which equates to stopping power on the greens. Still others boast everything.  And price matches the reputed quality, with the Titleist ProV1, TaylorMade Penta 5 and Bridgestone B330 series costing a stiff $35 to $45 a dozen.
So, when an inexpensive ball comes along and suggests superior performance, one must look closely with a gimlet eye.  (See colleague Steve Pike's take on the ball.) According to Callaway's Dave Bartels, the senior director of golf ball research and development, "Supersoft has a very soft cover over an incredibly soft core – – actually zero on the PGA compression scale.  It's easy to make a soft core, but difficult to make a soft core that's resilient."  Because the trionomer blend cover is also soft, reduced spin off the tee not only increases launch speed, but lessens hooks and slices.  "When it comes to accuracy," added Bartels, "SuperSoft may be the best ball on the market."
Ground Truth
Well, my buddy Craig, who has long been wedded to ProV1's, said that, "I found the SuperSoft to be true to its name, in that it has a nice soft feel and soft sound off the clubhead. The ball has very good distance of the driver and, for a 15-handicapper, the ball flies straighter than the Pro V1."  His only reservation is that given the softness, he expected more spin from wedge shots, and could not reproduce the hop-and-stop pitch shots that he's accustomed to with the Titleist ball.
Keith, who is also a ProV1 aficionado, felt that he could get good height on wedge shots, so that the ball at least settled on greens.  "I didn't get a 'pro's backspin but that's OK," he observed. "I'll worry about that once my handicap falls below 10."
Our friend Kenny, who lives near the 7th green, has a back yard that's a collection area, and hasn't paid for a golf ball since the Reagan Administration, absolutely blasted several drives as much as 30 yards longer than his usual best.  Although he probably still won't spring for a dozen new Callaways, we're certain Kenny will be looking more closely to identify and recycle lost SuperSofts.
He also has an increasingly good chance of finding them.  For one thing, despite the accuracy of the ball, players are still going to jerk approach shots into his yard.  For another, the new SuperSofts have been one of the best selling balls in the local pro shop.  "It could be because it's winter and players like the distance," said an assistant pro.  "It could be the price.  Either way, a lot of players seem to like it."  And for anyone's golf game, that's a big wet kiss.