If you dropped a casino chip at the Mandalay Bay Hotel on the southern end of the Las Vegas Strip, it might roll practically onto the first tee at the Bali Hai Golf Club just next door.  And if you went after it, you'd have transitioned from the hectic excitement of Sin City to the tranquil, palm-lined beachy atmosphere of a golf course that could just as easily be in Vanuatu as in Vegas.  Bali Hai is the only golf layout in such close proximity to all the rest of the Vegas action and also located so ridiculously close to McCarran Airport that you could probably get from runway to fairway in about twenty minutes.
Designed by Lee Schmidt and Brian Curley, the par-71 track stretches to just over 7,000 yards encompassing seven acres of opulent water features, 2,500 swaying palms, and 100,000 flowering plants– and during our recent visit, the Golf Road Warriors seemed to hit into most of them.  The immaculately-manicured course also boasts some nice elevation changes and great views of distant mountains as well as a few up-close panoramas of the the Luxor Pyramid and the orange-pink towers of Mandalay Bay.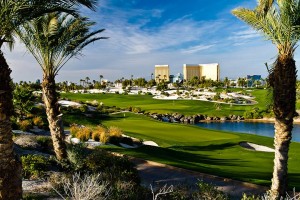 Bali Hai opens with a gentle short par four of 341 yards framed by palms and peppered with bunkers.  Water appears for the first time on number three, a dogleg right lined by a rocky stream and playing to an elevated green.  Water remains part of the backdrop (and sometimes part of a penalty drop) for  the next three holes in the forms of both streams and turquoise lakes that off-set beautifully with the green grass and sparkling white waste areas surrounding the playing surfaces.  Par-three number six, in fact,  is mostly water that must be carried to a sort of reverse redan green.  The front side ends with a 208-yard par three over water with the Polynesian-style clubhouse behind it beckoning like a waiter approaching with Mai Tais.  Oh wait, that IS a waiter approaching with Mai Tais!
The back side commences with 526 yards of serpentining Bermuda grass mayhem leading to a green well protected on both sides by gleaming white sand.  Sixteen, which also returns to the clubhouse, calls for a testy 141-yard touch shot over a lake– if the pin is cut in front you may still find yourself hammering it over the putting surface if you tell yourself that long is better than short.  And by the way– more water lurks behind the green, too.  So does the terrific Cili Restaurant, where a gallery may be watching the splashdown of your Titleist.
The Golf Road Warriors played Bali Hai as part of the Harmon's Heroes charity fundraiser for wounded veterans, and were lucky enough to enjoy the company of Jared Lemon all day.  Jared lost his right arm in a firefight in Afghanistan and plays golf one-handed now.  He's a well-spoken and outgoing young man who's story is an inspiration to those of us who maybe have been known on occasion to complain about a back ache or that we hit a bad shot– Jared remained unwaveringly upbeat through a long round as our team racked up a score of ten under par, and he contributed by holing a couple of bombs with the flat stick.  Our team of actual warrior and Golf Road Warriors scored well with the help of Aubrey McCormick, who drove the first green from the women's tee to set the pace for a blistering day of birdie-making.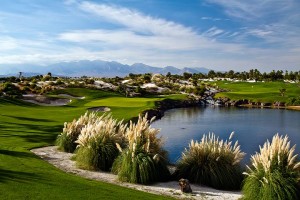 We also had a chance to meet some of the other soldiers at a cocktail reception for the event and to hear a few of their stories, which you can read more about here at golfroadwarriors.com.